Home

•

Postponed | The Millennium Tour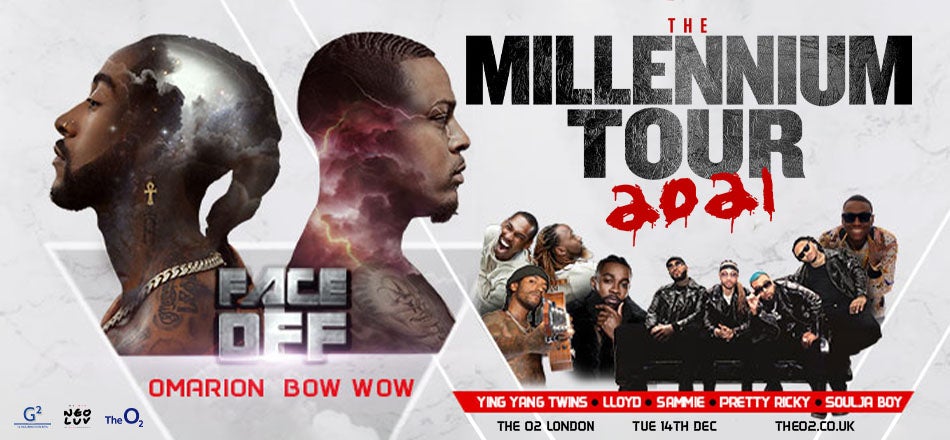 Postponed | The Millennium Tour
Featuring Omarion, Bow Wow, Pretty Ricky, Soulja Boy, Lloyd, Ying Yang Twins and Sammie
Postponed | The Millennium Tour
Featuring Omarion, Bow Wow, Pretty Ricky, Soulja Boy, Lloyd, Ying Yang Twins and Sammie
In light of the new covid variant Omicron, a difficult decision has been made to exercise precaution by postponing the upcoming 'The Millennium Tour' event date on Tuesday 14th December.
Travel restrictions are coming back into force which is causing issues for a number of key personnel and performers. All current tickets will be valid for the new 2022 show date which will be announced ASAP.
We offer our sincere apologies for any inconvenience caused by this postponement but we want to ensure a safe environment for all. We promise to make the Millennium Tour an even more spectacular event in 2022."
Important Information
Security
Coming to the show? Don't miss a moment. Head down early. Enhanced security is in place. Pack light, we only allow small bags into the arena.
Tickets
Please only purchase tickets through authorised ticketing sites such as www.axs.com. If you have, or suspect you may have been a victim of fraud when purchasing tickets, please report it to Action Fraud www.actionfraud.police.uk.
Taking care of your ticket
Your ticket's barcode is unique. Don't share the barcode of your ticket with anyone, especially online, as it may be used to sell your ticket on without your knowledge.
Help Desk
If you have already used our on-line help desk - and still need to get in touch? Drop us an email at http://www.theo2.co.uk/email and someone will get back to you as soon as possible.