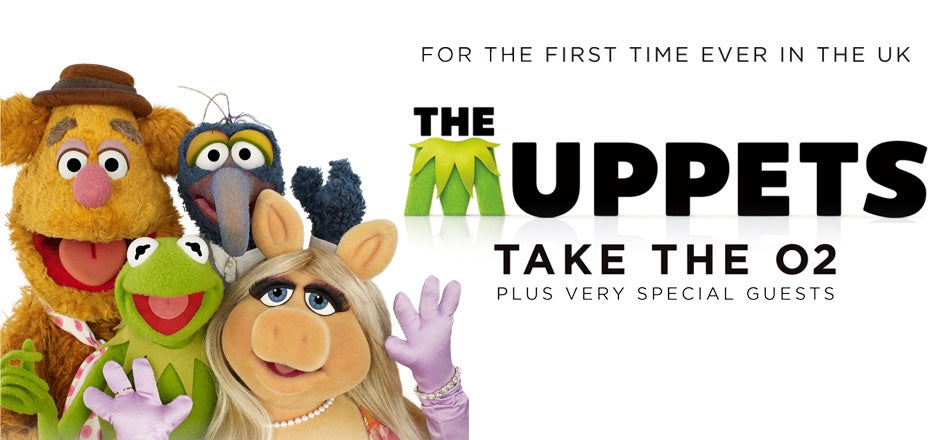 The Muppets take The O2
Date

13

July

-

14

July

2018

Venue

The O2 arena

Availability

On sale now
You will be directed to AXS.com to purchase your tickets. AXS is the official ticketing partner of The O2.
Event Details
The Muppets have announced their most sensational, inspirational, celebrational, muppetational, full-length live show in Europe for the first time ever! Based on their hit 1980s variety TV show, Kermit The Frog will once again lead an all-star cast in…The Muppets Take London – Live At The O2 on Friday 13 and Saturday 14 July 2018.
Following a hugely successful trio of sell-out shows at the Hollywood Bowl last year, this exclusive European show is the first time The Muppets have ever performed their full live extravaganza outside of the USA.
"We're thrilled to bring this first time ever live performance to all our fans in the UK," says Kermit, "There'll be music, comedy, incredible surprises, plus total and complete chaos. In other words: It's the Muppets! Yaaaay!
"We've wanted to do a show like this for a long time, and now—after finally getting all Miss Piggy's luggage through customs -- we have the chance to appear live at The O2 arena!"
Miss Piggy adds, "I can't wait to be there to entertain, astonish, dazzle and otherwise gobsmack all moi's fabulous fans! Wear socks, sweetie, cause I'm gonna knock 'em off. I will amaze everyone with this first-ever live performance....and, of course, for the official renaming of 'The MOI 2' arena."
Long time Muppet watchers and critics, Statler & Waldorf also have a view:
STATLER: "This is gonna be the ultimate 'Don't Miss It' event...."
WALDORF: "Yeah, if you don't go to it, you won't miss it."
Kermit and the ultimate diva herself - Miss Piggy will be joined by very special celebrity guests for musical performances, sketches and more. Highlights of the show include the fabulous Miss Piggy in a show-stopping musical extravaganza, a rocking musical jam by The Muppets' legendary house band Dr. Teeth and The Electric Mayhem, with legendary drummer Animal. Plus the debut of all-new original chapters of those classic Muppet Show sketches - Pigs in Space, Veterinarian's Hospital and Muppet Labs and many, many more extraordinary surprises.
With a cast of characters headlined by the inimitable, yet exasperating Miss Piggy, the hilarious Fozzie Bear, the inexplicable Great Gonzo and the extremely-loud Animal, The Muppets remain as beloved and befuddling entertaining as ever. So, please stop reading this -- because if you're here then you probably already know all this stuff – and join the aforementioned entertainers – plus Sam Eagle, The Swedish Chef, Pepé the King Prawn, Lew Zealand, Rowlf and so many more! It's time to get things started. This is what we call The Muppets Take The O2.
Sign up for updates and pre-sales
Date

13

July

-

14

July

2018

Venue

The O2 arena

Availability

On sale now
You will be directed to AXS.com to purchase your tickets. AXS is the official ticketing partner of The O2.
Upcoming Events
Plus special guests Baby Drill and 21 Lil Harold
Plus special guests MNEK, John Martin, Jem Cooke and Jazzy
Plus special guests Bailey Zimmerman and Larry Fleet
Plus special guest Bob The Drag Queen