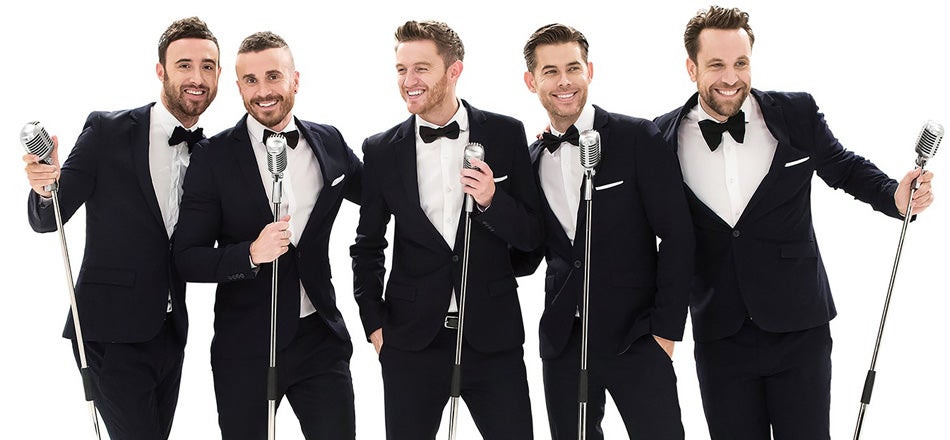 The Overtones
Get access to exclusive updates and a heads-up on tickets.
The Overtones have firmly established themselves as the number 1 vocal harmony group. Since breaking in 2010 with their debut Good Ol' Fashioned Love, the group has established their reputation as an act with the unique ability to deliver consistently uplifting music infused with exquisitely crafted vocal harmonies. It's no wonder that they have sold OVER a million records and had five Top 5 albums!
Last year they released their Christmas album, Good Ol' Fashioned Christmas, accompanied by a major UK tour that had fans of all ages dancing in the aisles.
The press as well as the fans just loved it up and down the country– "It's all about old school cool" proclaimed the Daily Record in Scotland, whilst the York Press confirmed that there was "Buckets full of Christmas cheer [with] the boys helped get me well and truly into the festive spirit" and the Bolton News observing how "everyone in the packed theatre [got] on their feet".
Back by popular demand and quickly becoming a fixture in everyone's Christmas party season, is the quintet's Christmas 2016 tour. The 21 date run kicks off on 23rd November in Dunfermline, taking in cities across the country including London's indigo at The O2 on 16th December, finishing on 22nd December in Nottingham.
Celebrating the most wonderful time of the year, with a stocking rammed full of Christmas crackers, in the shape of good ol' classics such as 'White Christmas', 'Santa Claus Is Coming To Town' and 'Let It Snow', this will end a vintage year for the Darren, Mark, Mike, Lachie and Timmy.
Currently starring in a 9-week production of That's Entertainment - a nationwide tour bringing back the hits of the 30s, 40s and 50s, The Overtones' remain as in demand as ever! Lachie has even made his TV debut in the hit E4 comedy series, Crashing.
The Overtones are torchbearers for flat-out fantastic singing, as much as a throwback to the timeless appeal of doo-wop and Motown as they are to modern day R&B and pop. They have enjoyed a succession of major achievements, including performing in front of 250,000 people at the Queen's Diamond Jubilee Concert, appearing at the Festival of Remembrance and hitting London's Hyde Park for major festival shows at BT London Live and British Summer Time.
So don your best Christmas jumper, pull some crackers, bring your Santa hat, crack open the bubbly and get lost in a night of high-spirited festive hijinks!
Important Information
Security
Coming to the show? Don't miss a moment. Head down early. Enhanced security is in place. Pack light, we only allow small bags into the arena.
Road Works
Please be aware that there are road works taking place on Millennium Way affecting the route into Car Park 1. A short diversion is in place and Car Park 1 will be open as normal throughout the works. Please allow extra time when travelling to or from The O2 by road.
Tickets
Please only purchase tickets through authorised ticketing sites including www.axs.com and www.stubhub.co.uk - The Official Ticket Resale Marketplace of The O2. If you have, or suspect you may have been a victim of fraud when purchasing tickets, please report it to Action Fraud www.actionfraud.police.uk.
Taking care of your ticket
Your ticket's barcode is unique. Don't share the barcode of your ticket with anyone, especially online, as it may be used to sell your ticket on without your knowledge.
Help Desk
If you have already used our on-line help desk - and still need to get in touch? We can be contacted on 0208 463 2000 or click on the Help button at the bottom right of the screen. We're here to help Monday – Friday 9-7pm and 10-6pm at weekends.