Home

•

The Pretty Things "Final Bow"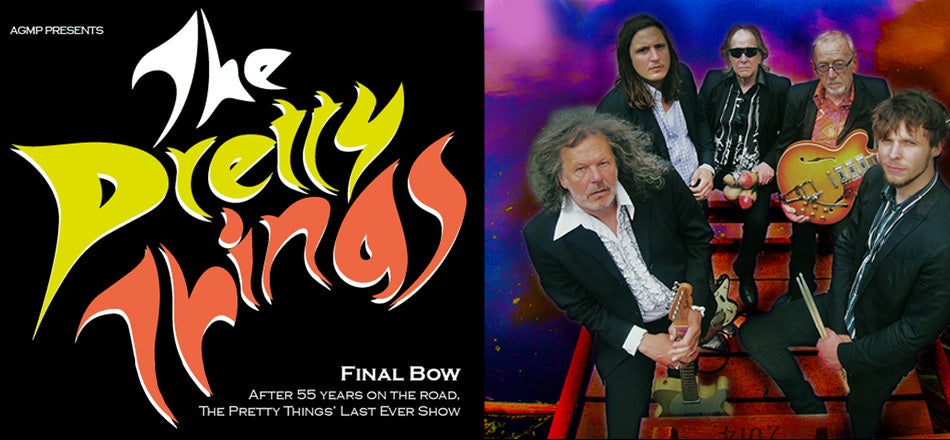 The Pretty Things "Final Bow"
The Pretty Things "Final Bow"
You will be directed to AXS.com to purchase your tickets. AXS is the official ticketing partner of The O2.
After 55 years of live performing, The Pretty Things - the iconic, 1st wave, R&B cult heroes, formed by Ex Rolling Stone Dick Taylor, and singer, Phil May - will retire from electric performances at the end of this year.

Serial under-achievers, and the greatest band you never heard of, The Pretty Things have been a massive critical success and a huge influence on artists as diverse as David Bowie, Aerosmith, The Ramones, Bob Dylan, The Sex Pistols, The White Stripes, Kasabian and many, many more - who site their outrageous behaviour, incandescent stage performances and astonishing catalogue of remarkable, ground-breaking recordings as fundamental in the creation of their own work.

With a huge history of musical and cultural "firsts" at their core - the "longest hair in the world", first ever rock and roll drugs bust, most arrests of any band, first ever "garage" single, first ever rock-opera, first U.K. band to win Rolling Stone Record of the Year, arrested for discharging a sawn off shotgun, first band to regain full control of its entire recorded catalogue and on and on... - The Pretty Things are an indelible part of the fabric of popular music and the social influence that it has created.

Still creating significant front-line records today and with such influential work as their ground-breaking masterpiece and world's first rock opera - S. F. Sorrow - which celebrates its 50th Anniversary this year, in their back catalogue, they remain a hugely significant artistic and creative force. With no other first-wave artist but The Stones, outselling their frontline recordings today and probably no artist at all out-performing them live.

It should be compulsory for anyone with the slightest interest in popular music and the youth and social revolution of the 1960's to see The Pretty Things before they hang up their guns at the end of this year. Their farewell show in London will feature guest appearances from significant old friends David Gilmour, Van Morrison and some new young gunslingers to make sure they go out like they came in - with all guns blazing and taking no prisoners.
They play their final performance at Indigo at The O2 on 13 December 2018. Tickets on sale Friday 25 May 2018 at 11am.
You will be directed to AXS.com to purchase your tickets. AXS is the official ticketing partner of The O2.
Important Information
Security
Coming to the show? Don't miss a moment. Head down early. Enhanced security is in place. Pack light, we only allow small bags into the arena.
Tickets
Please only purchase tickets through authorised ticketing sites such as www.axs.com. If you have, or suspect you may have been a victim of fraud when purchasing tickets, please report it to Action Fraud www.actionfraud.police.uk.
Taking care of your ticket
Your ticket's barcode is unique. Don't share the barcode of your ticket with anyone, especially online, as it may be used to sell your ticket on without your knowledge.
Help Desk
If you have already used our on-line help desk - and still need to get in touch? Drop us an email at http://www.theo2.co.uk/email and someone will get back to you as soon as possible.