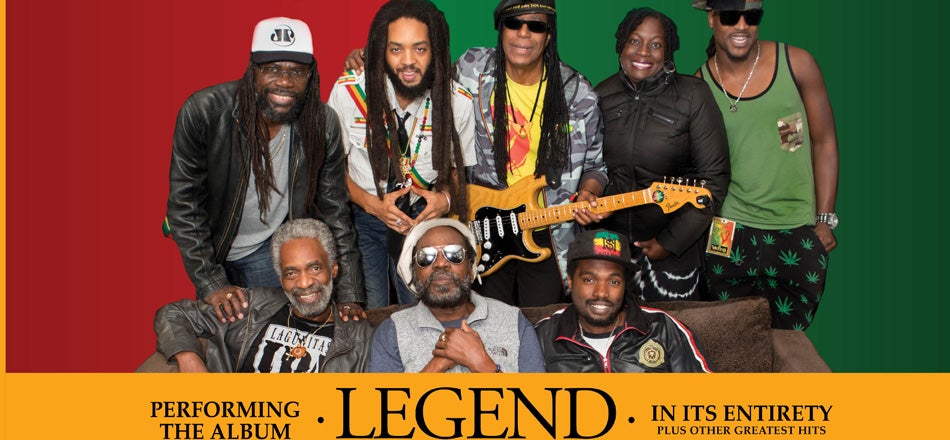 The Wailers
+ guests
Get access to exclusive updates and a heads-up on tickets.
The Wailers with support from By The Rivers & Solo Banton with Upper Cut Band
Following the news of the rescheduled UK tour dates, The Wailers will return to the UK in March 2017 with a headline tour and a new legendary line-up. Steered by founder Aston "Familyman" Barrett, and joined in solidarity with original Wailers' band members Junior Marvin and Donald Kinsey, The Wailers will perform across some of the UK's major cities.
Carrying its revolutionary sound and message to loyal fans around the world, the UK tour will see The Wailers play the iconic Legend album live on stage in its entirety, including their greatest hits 'Three Little Birds,' 'I Shot The Sheriff,' 'Jamming' and many more.
This Wailers band promises to deliver music and talent perfected over numerous decades. Old-school members welcome the new-generation talent of drummer Aston Barrett Jr., Fams' multi-talented son and nephew of Wailers co-founder and innovative drummer Carlton "Carly" Barrett. Familyman Barrett, heralded as a musical genius, was named one of the most influential bass players of all times, and received the 2012 Lifetime Achievement Award from Bass Player magazine.
Since 1974, Bob Marley & The Wailers have recorded, toured, and performed before millions of fans in multiple countries. They have claim to more than 250 million Bob Marley & The Wailers recordings sold since the early 70s, including 1977's Exodus, declared Best Album of the Century in 1999 by Time Magazine. The BBC named "One Love" Song of the Millennium that same year. The New York Times named Bob Marley the most significant musician of the century, and Rolling Stone magazine name Bob Marley & The Wailers Band of the Year in1976. All of these accolades were made possible with The Wailers band creation of and participation in timeless, distinctive music, intricate arrangements, and lyrics that touched fans everywhere.
Inspired to reunite, The Wailers are moving forward with their vision of quality production, songwriting, and messages of peace, unity, and one love. The band is coming together to perform on stage, making this a slice of musical history you must not miss.
All Ages – Under 14s accompanied and seated by an adult
Important Information
Security
Coming to the show? Don't miss a moment. Head down early. Enhanced security is in place. Pack light, we only allow small bags into the arena.
Road Works
Please be aware that there are road works taking place on Millennium Way affecting the route into Car Park 1. A short diversion is in place and Car Park 1 will be open as normal throughout the works. Please allow extra time when travelling to or from The O2 by road.
Tickets
Please only purchase tickets through authorised ticketing sites including www.axs.com and www.stubhub.co.uk - The Official Ticket Resale Marketplace of The O2. If you have, or suspect you may have been a victim of fraud when purchasing tickets, please report it to Action Fraud www.actionfraud.police.uk.
Taking care of your ticket
Your ticket's barcode is unique. Don't share the barcode of your ticket with anyone, especially online, as it may be used to sell your ticket on without your knowledge.
Help Desk
If you have already used our on-line help desk - and still need to get in touch? We can be contacted on 0208 463 2000 or click on the Help button at the bottom right of the screen. We're here to help Monday – Friday 9-7pm and 10-6pm at weekends.