Home •
Thomas Anders - Modern Talking Band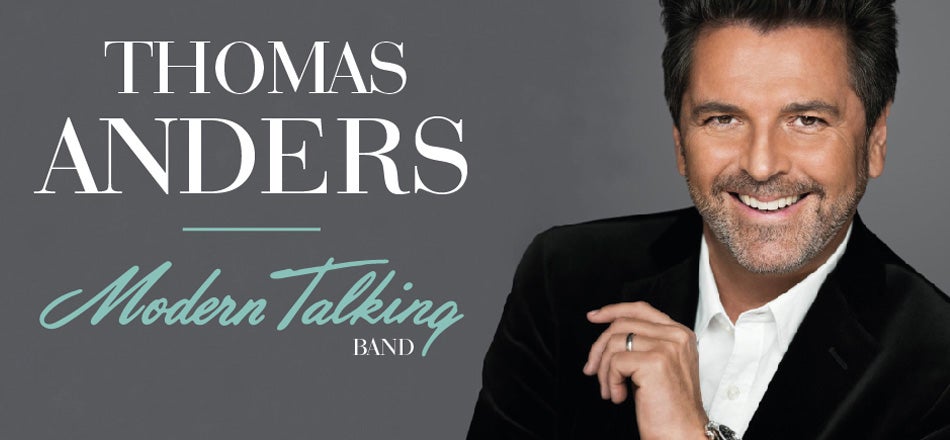 Thomas Anders - Modern Talking Band
Thomas Anders - Modern Talking Band
You will be directed to AXS.com to purchase your tickets. AXS is the official ticketing partner of The O2.
THOMAS ANDERS
Thomas Anders is a German singer , composer and record producer. Anders was born in Koblenz, West Germany. He began showing interest in music as a child , he did his first stage – performance at age of 7. Anders studied music at Gymnasium , and then musicology at University. His career officially began when in 1980, at age of 17, he released his debut single "Judy". Thomas Anders released several other singles produced by Daniel David but in 1983, he met Dieter Bohlen. From late 1983 to the mid of 1984 Bohlen produced other tracks for Anders. The success , however , came when in late 1984, Anders and Bohlen formed the successful duo Modern Talking, which they started things off by a worldwide hit single " You're My Heart, You're My Soul ".
MODERN TALKING
Modern Talking have been referred to as Germany's most successful POP duo , and have had a number of hit singles , reaching the top five in many countries. First formed at the end of 1983, they unexpectedly became immensely popular in the beginning of 1985 with " You're My Heart, You're My Soul ", with which they occupied top ten positions in thirty-five countries including their homeland. The single eventually went on to sell 8 million copies worldwide. The track was then followed by another number-one hit, " You Can Win If You Want ", which was released in the middle of 1985 from the debut "The 1st Album". The album was certified platinum in Germany for selling over 500,000 units. They released two albums each year between 1985 and 1987, while also promoting their singles on television all over Europe, eventually selling sixty-five million records within three years. During this era, Modern Talking were successful in Europe , Asia , Middle East , South America.
You will be directed to AXS.com to purchase your tickets. AXS is the official ticketing partner of The O2.
Important Information
Security
Coming to the show? Don't miss a moment. Head down early. Enhanced security is in place. Pack light, we only allow small bags into the arena.
Tickets
Please only purchase tickets through authorised ticketing sites such as www.axs.com. If you have, or suspect you may have been a victim of fraud when purchasing tickets, please report it to Action Fraud www.actionfraud.police.uk.
Taking care of your ticket
Your ticket's barcode is unique. Don't share the barcode of your ticket with anyone, especially online, as it may be used to sell your ticket on without your knowledge.
Help Desk
If you have already used our on-line help desk - and still need to get in touch? Drop us an email at http://www.theo2.co.uk/email and someone will get back to you as soon as possible.