Home

•

Undisputed: An Evening With Lennox Lewis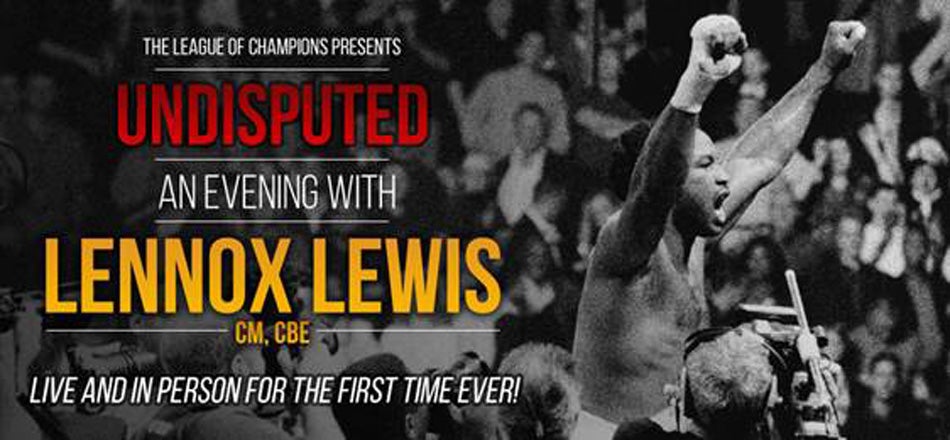 Undisputed: An Evening With Lennox Lewis
Undisputed: An Evening With Lennox Lewis
You will be directed to AXS.com to purchase your tickets. AXS is the official ticketing partner of The O2.
Undisputed: An Evening With Lennox Lewis will be the first time ever that former Undisputed World Heavyweight Boxing Champion, Lennox Lewis, sits down for an intimate, moderated evening to discuss his illustrious career, and many of the behind the scenes backstories, to some of his biggest fight ever.
Born in East London, Lennox moved to Ontario, Canada at the age of 12 to reunite with his mother, who had moved there seeking a better life and gainful employment. He took up boxing as a teenager and went on to win an Olympic gold medal for Canada in 1988. Upon turning pro, he moved back to England and fought his entire professional career representing East London. He went on to become the best fighter of his generation, undisputed world champion, and arguably, one of the greatest heavyweight champions in boxing history.
Join us, and hear it directly from the champ's mouth, as we take a retrospective walk down memory lane and revisit some of the highlights, and lowlights, of his 15 year professional career. Since his retirement in 2004, Lennox has focused on his family, business interests and philanthropic endeavors. He has remained the last undisputed heavyweight boxing champion since retiring in 2004.
On stage with Lennox will be Special Guest Vitaliy Klitschko and in the audience a number of special guests from the world of sport. The evening will be hosted by Global Comedy Superstar Russell Peters.
Sign up for updates and pre-sales
You will be directed to AXS.com to purchase your tickets. AXS is the official ticketing partner of The O2.
Important Information
Security
Coming to the show? Don't miss a moment. Head down early. Enhanced security is in place. Pack light, we only allow small bags into the arena.
Tickets
Please only purchase tickets through authorised ticketing sites such as www.axs.com. If you have, or suspect you may have been a victim of fraud when purchasing tickets, please report it to Action Fraud www.actionfraud.police.uk.
Taking care of your ticket
Your ticket's barcode is unique. Don't share the barcode of your ticket with anyone, especially online, as it may be used to sell your ticket on without your knowledge.
Help Desk
If you have already used our on-line help desk - and still need to get in touch? Drop us an email at http://www.theo2.co.uk/email and someone will get back to you as soon as possible.