close
Coming to the show? Don't miss a moment. Head down early. Enhanced security is in place. Pack light, we only allow small bags into the arena.
Event timings: Doors Afternoon Session: 11:30 // Women's Competition: 13:00 // Finish: 16:00
Doors Evening Session: 17:30 // Men's Competition: 19:00 // Finish: 23:00
Home

•

World Cup of Gymnastics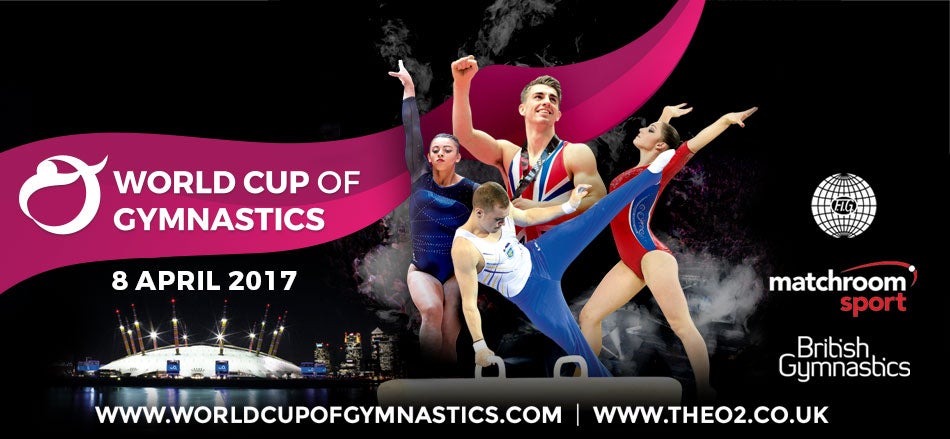 World Cup of Gymnastics
You will be directed to AXS.com to purchase your tickets. AXS is the official ticketing partner of The O2.
Matchroom Sport are delighted to announce the World Cup of Gymnastics will come to The O2 on Saturday April 8 2017, live on Sky Sports, in an exciting new partnership with British Gymnastics.
Tickets go on sale Friday 30 September and are available at www.theo2.co.uk or by calling 0844 856 0202.
A new venture for Barry Hearn's Matchroom Sport, and set to feature Team GB stars such as Olympic Gold medallist Max Whitlock, the World Cup of Gymnastics sees the world's best gymnasts invited to compete in the prestigious 'all-around' competition with the men battling it out over six testing apparatus (floor, pommel horse, rings, vault, parallel bars and the high bar) and the women competing on vault, uneven bars, beam and floor.
The event will take place at The O2 on Saturday, April 8, 2017; with the women's competition taking place in the afternoon and the men's in the evening session and will be broadcast by Sky Sports throughout.
The World Cup of Gymnastics was launched by Hearn, with British Gymnastics CEO Jane Allen and Team GB Olympians Max Whitlock, Nile Wilson, Amy Tinkler and Bryony Page at a press conference at The Shard, London today. Bryony, who took trampoline silver, has been invited to perform during the World Cup of Gymnastics to showcase her incredible skills.
Hearn commented: "British sport is riding the crest of a wave after a quite outstanding performance at the Rio Olympics and I am thrilled to be bringing some of Team GB's gymnastics superstars home to London for this major event. Gymnastics is something completely new for Matchroom and I cannot wait to put our unique stamp on this global event.
"The O2 is expected to sell out fast for this and I encourage all British sports fans to come and support their heroes in one of the most competitive global events on the gymnastics calendar.
"With Sky Sports adding their world-leading weight behind the event, the World Cup of Gymnastics promises to be a spectacle not to be missed."
Max Whitlock added: "It's amazing that gymnastics is coming back to The O2! My experiences competing there during London 2012, with the incredible home crowd support, are amongst the most memorable of my career. British Gymnastics is flying at the moment after we made history in Rio and I'm confident the British public will come out in force for this world class event."
Jane Allen: "We're delighted to bring this world class gymnastics event to London for the first time through the development of a new partnership with Matchroom and Sky Sports. It is testament to the huge success of our sport that we are able to stage this event and showcase gymnastics in the magnificent arena at The O2.
"British Gymnastics continues to go from strength to strength and our gymnasts' historic achievements during Rio 2016 mean gymnastics is in demand and more popular than ever. The World Cup of Gymnastics is a fantastic competition with some the world's best gymnasts in action.
"Having been staged superbly in Glasgow for many years in front of sold-out crowds this is a chance for even more new fans to witness our sport. Our athletes are excited to now perform and compete in London, entertaining a huge crowd in a spectacular venue."
The World Cup of Gymnastics in London forms part of the 2017International Gymnastics Federation (FIG) individual all-around World Cup Series that begins in America, then travels to Stuttgart and finishes in London. Medals are handed out at each competition with gymnasts also picking up ranking points across the three events to crown the eventual World Cup series champion.
British Gymnastics is the UK Governing Body for the sport of gymnastics. It exists to support, lead and inspire all those involved or interested in gymnastics; from creating new programmes and activities at grass roots to helping the development of top-level talent and delivering world-class events across the UK. Visit the British Gymnastics website at www.british-gymnastics.org.
Sign up for updates and pre-sales
You will be directed to AXS.com to purchase your tickets. AXS is the official ticketing partner of The O2.
Important Information
Security
Coming to the show? Don't miss a moment. Head down early. Enhanced security is in place. Pack light, we only allow small bags into the arena.
Tickets
Please only purchase tickets through authorised ticketing sites such as www.axs.com. If you have, or suspect you may have been a victim of fraud when purchasing tickets, please report it to Action Fraud www.actionfraud.police.uk.
Taking care of your ticket
Your ticket's barcode is unique. Don't share the barcode of your ticket with anyone, especially online, as it may be used to sell your ticket on without your knowledge.
Help Desk
If you have already used our on-line help desk - and still need to get in touch? Drop us an email at http://www.theo2.co.uk/email and someone will get back to you as soon as possible.