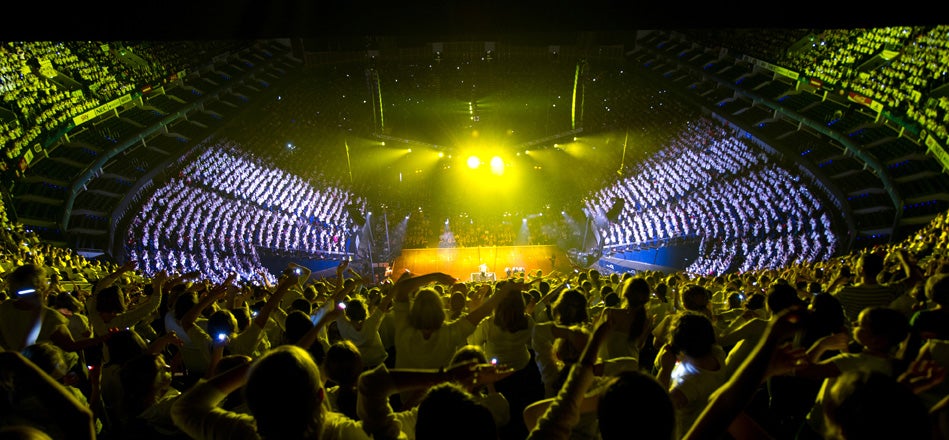 Young Voices
For tickets please call: 0844 856 0202
The largest Children's choir in the world, Young Voices will be heading to The O2 in 2017 with over 120,000 excited singing school children aged from 6-13.
Young Voices provides an unrivalled musical opportunity for primary school children to perform all styles of music including folk, pop, rock and classical. Young Voices is designed to unify children from across the region, boost their confidence and provide lifelong memories for them and their families. Teachers & Pupils practice the dance routines and learn the songs in their music lessons for many months before they excitedly come together for the penultimate show at their local arena. This is an unmissable opportunity for local school choirs to sing in huge arenas alongside some of the most talented & well known artists from the world of music.
Their choirs range from 4,500 to 8,500 children, all performing at the same time to capacity audiences of friends and family. Nothing can prepare you for the sound of thousands of children singing in harmony. Young Voices combines the power of singing together as one, with accompaniment from a wide range of musicians and artists, to create an amazing performance.
Important Information
Security
Coming to the show? Don't miss a moment. Head down early. Enhanced security is in place. Pack light, we only allow small bags into the arena.
Tickets
Please only purchase tickets through authorised ticketing sites such as www.axs.com. If you have, or suspect you may have been a victim of fraud when purchasing tickets, please report it to Action Fraud www.actionfraud.police.uk.
Taking care of your ticket
Your ticket's barcode is unique. Don't share the barcode of your ticket with anyone, especially online, as it may be used to sell your ticket on without your knowledge.
Help Desk
If you have already used our on-line help desk - and still need to get in touch? Drop us an email at http://www.theo2.co.uk/email and someone will get back to you as soon as possible.