Youssou Ndour Et le Super Etoile de Dakar Live Grand Bal De Londres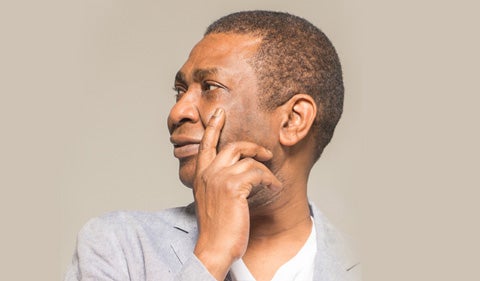 Youssou Ndour Et le Super Etoile de Dakar Live Grand Bal De Londres
The King of African Music; the Senegalese Superstar Youssou Ndour will deliver a unique one-off show in London this August, alongside his band Super Etoile de Dakar.
The Grande Bal will largely be an undiluted Mbalax soiree drawing on some of the best dance songs from his spectacular repertoire, built over 40 years of live performances and studio recordings.
Youssou Ndour is not only an accomplished cultural icon but plays a pivotal role in global geopolitics. He mounted a very vocal campaign for the release of Nelson Mandela at the height of the antiapartheid struggle. In his musical performances at global concerts for Amnesty International, and his role as UNICEF Goodwill Ambassador, the musical icon continues to champion progressive global causes in Africa and the world, highlighting the plight of Africa's marginalised peoples.
Youssou will perform at Indigo for one night only, in what will be a truly magical night of African music and dance; in a uniquely Dakar-Banjul like setting.
Tickets are on sale Wednesday 13 June at 11am.
Important Information
Security
Coming to the show? Don't miss a moment. Head down early. Enhanced security is in place. Pack light, we only allow small bags into the arena.
Road Works
Please be aware that there are road works taking place on Millennium Way affecting the route into Car Park 1. A short diversion is in place and Car Park 1 will be open as normal throughout the works. Please allow extra time when travelling to or from The O2 by road.
Tickets
Please only purchase tickets through authorised ticketing sites including www.axs.com and www.stubhub.co.uk - The Official Ticket Resale Marketplace of The O2. If you have, or suspect you may have been a victim of fraud when purchasing tickets, please report it to Action Fraud www.actionfraud.police.uk.
Taking care of your ticket
Your ticket's barcode is unique. Don't share the barcode of your ticket with anyone, especially online, as it may be used to sell your ticket on without your knowledge.
Help Desk
If you have already used our on-line help desk - and still need to get in touch? We can be contacted on 0208 463 2000 or click on the Help button at the bottom right of the screen. We're here to help Monday – Friday 9-7pm and 10-6pm at weekends.