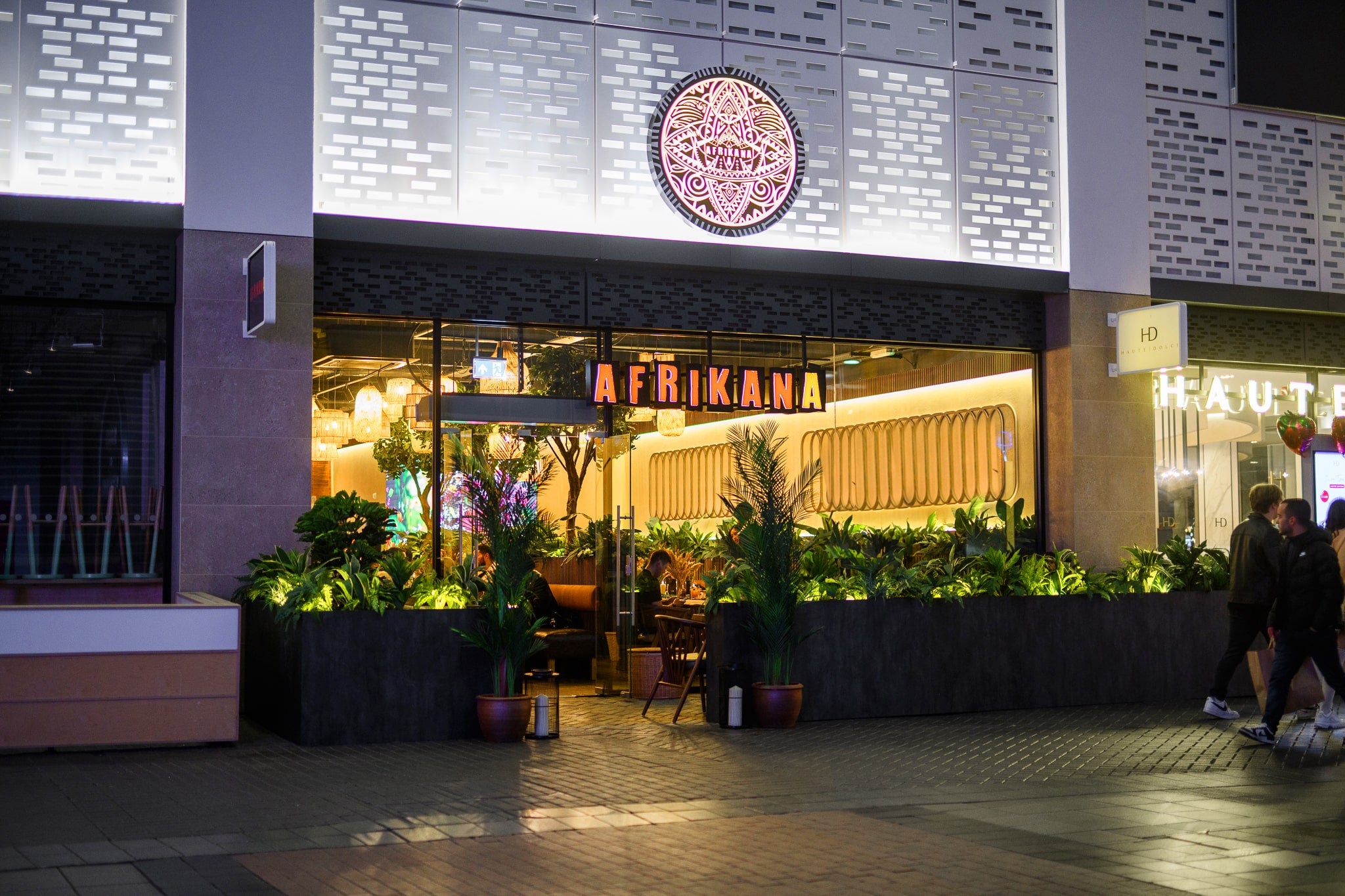 11

Oct

2023
Afrikana opens at The O2
The O2 has announced that Afrikana, the independent African inspired restaurant, has opened at the destination's Entertainment District, which is owned and operated by a joint venture between AEG Europe and Crosstree Real Estate. Afrikana adds to a burgeoning line-up of F&B brands, further enhancing the world's most popular live entertainment, leisure, and retail destination.
Afrikana has opened a 1,992 sq ft unit adjacent to Las Iguanas and iFLY Indoor Skydiving and delivers African inspired recipes with a modern twist, offering an exquisite dining experience for visitors with dishes such as grilled chicken, curries, and burgers. The interior, which has been designed in-house by the brand, reflects the rich cultural heritage of Africa and creates a warm and welcoming atmosphere that invites guests to immerse themselves in the continent's diverse traditions.
Afrikana at The O2 marks the operator's second location in London, sitting alongside its site in Dalston, and 15th in the UK, joining its restaurants in Manchester, Birmingham, Cardiff, Leicester and Glasgow. It also joins over 30 bars and restaurants at The O2, including Chipotle, German Doner Kebab, Five Guys, Marugame Udon, and ASK Italian, as well as a plethora of leisure operators, such as TOCA Social, Boom Battle Bar, iFLY Indoor Skydiving, Mamma Mia! The Party, Hollywood Bowl, and Oxygen Freejumping.
Janine Constantin-Russell, Managing Director at The Entertainment District and Outlet Shopping at The O2, commented: "Afrikana is a fantastic addition to The O2, delivering a friendly and vibrant offer for visitors. Hosting the brand's second location in London is a testament to the opportunities that we can provide for independent operators, and once again reinforces the appeal of our destination."
Commenting on the opening, franchisee Ish Ikram and Ahdil Akhtar added: "We are so excited to bring the authentic flavours and atmosphere of Afrikana to The O2, the world's most popular live entertainment, leisure, and retail destination. We are certain Afrikana will be a great addition to The O2 - we know people will love it just as much as we do."
This news follows the recent announcement that Padel Social Club is set to occupy 13,000 sq ft at the destination and house three indoor courts, delivering a remarkable new facility at The O2. Padel Social Club at The O2 will also boast an array of amenities, such as vibrant social areas, a stylish bar, a cosy café and breathtaking riverside views.
The O2 was represented by Lunson Mitchenall.