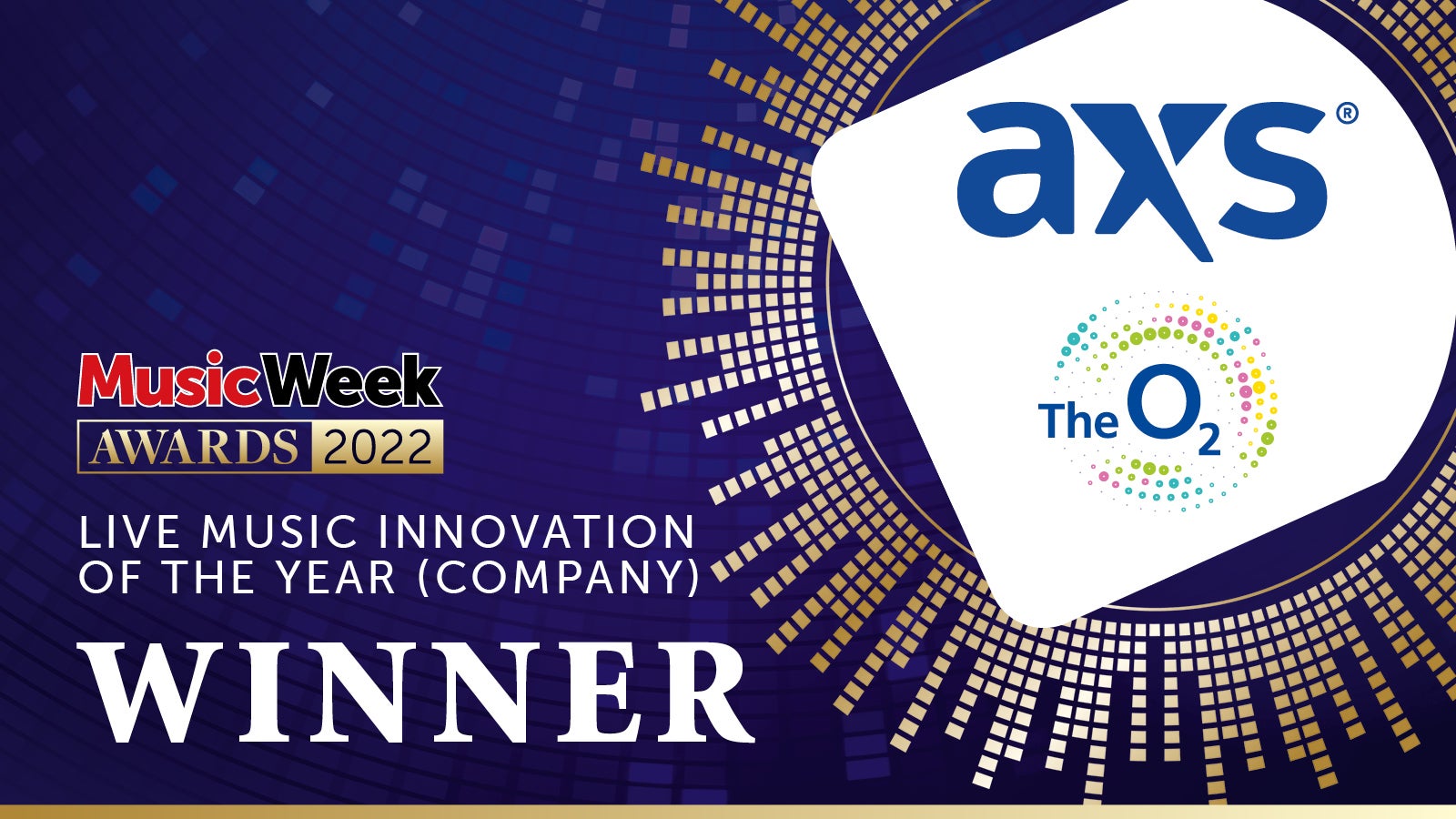 30

May

2022
AXS and The O2 win the Live Music Innovation of The Year at the Music Week Awards 2022
Global ticketing company AXS and the world's most popular music venue The O2 last night won the coveted 'Live Music Innovation of the Year' award at the 2022 Music Week Awards for AXS Mobile ID at The O2 arena.
Through their collaboration, customers who purchase from other agents such as Ticketmaster, Eventim, Ticketzone, See Tickets and Gigantic can now instantly receive and access their tickets through The O2's venue app, which was built by Realife Tech.
The innovation launched in August 2021 at the venue's first full capacity live event following the lifting of Covid restrictions, when The O2 welcomed 17,000 NHS and key workers to the arena to see Gorillaz exclusively via its venue app, powered by AXS's patented mobile embedded ticket Mobile ID, ushering in a new era in concert ticketing for the venue.
This is game changing technology in a normally siloed industry. In rolling this out, AXS has partnered with its competitors in the UK, liaising with technology and business operations stakeholders within those organisations.
This digital innovation not only creates a seamless experience for customers visiting The O2 arena but is a sustainability success too; removing the need to print millions of paper tickets every year and the associated vehicles on the roads to deliver these tickets to fans via post. Furthermore, it removes the need for duplicates, or separate queuing on the night: a global first in wider industry relations and technological integration.
Chris Lipscomb, Managing Director at AXS UK said: "We are honoured to win this award together with our friends at The O2, but we also share this recognition with our new partners at Ticketmaster, See Tickets, Gigantic, Eventim and Ticketzone. Ticketing is a tough business, and I'm delighted we've found a way to work together to build something truly special for fans".
Adam Pearson, Commercial Director at The O2 said "We're so proud to win this award, together with our Official Ticketing Partner AXS, and some of the other leading UK ticketing companies. The customer is always at the forefront of everything we do at The O2, and we're dedicated to investing in the customer experience to ensure it's always best in class. This technology allows customers visiting The O2 to have a totally seamless digital experience and spend more time enjoying what the venue has to offer, and we're excited to continue our work with AXS and others to make the digital fan experience even better in the future. This project has been a real team effort and the recognition for this award should absolutely go to every single person who has played a part in getting us to this stage – thank you."