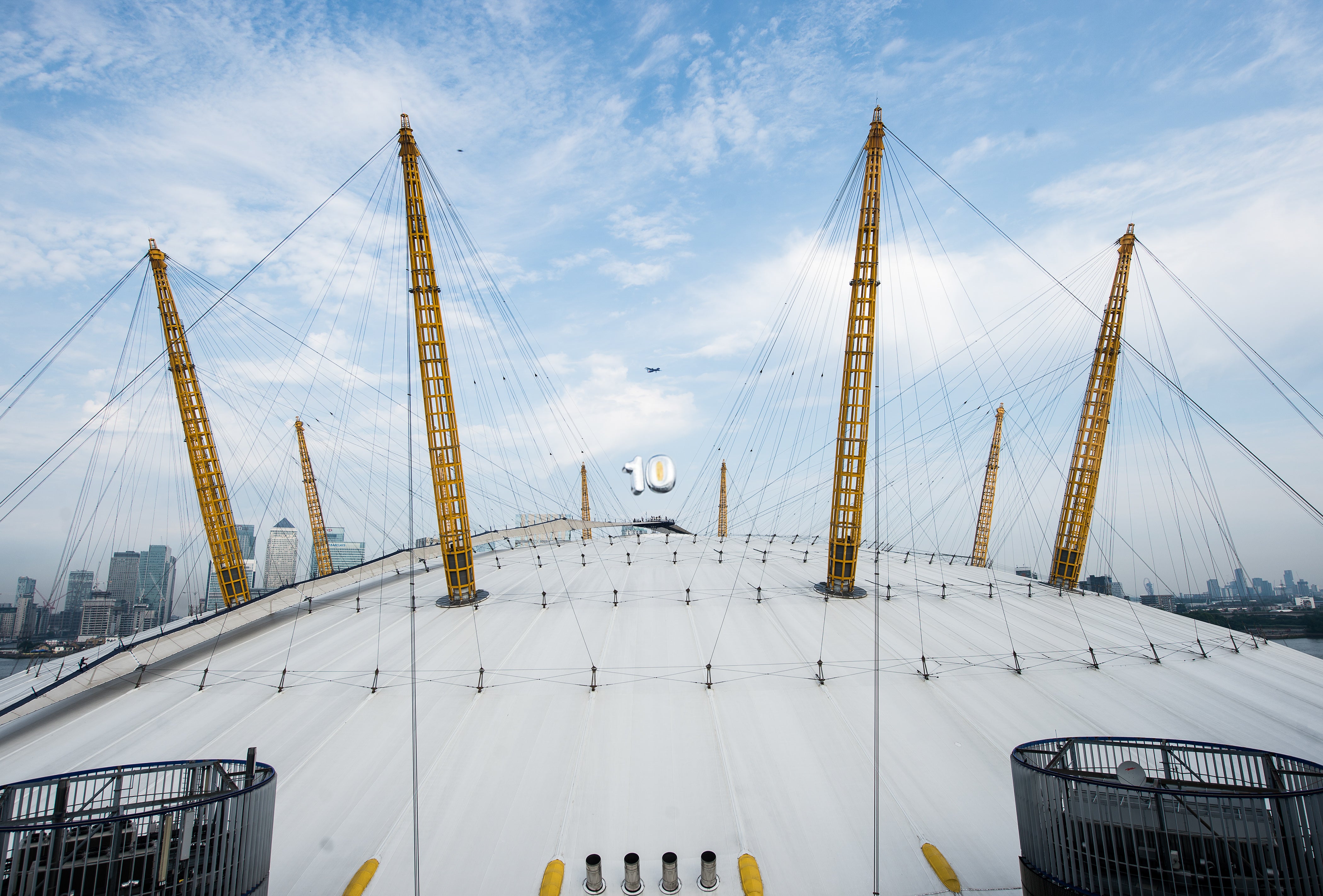 23

May

2022
Calling all Cancerians... it's time for a birthday climb with Up at The O2
Up at The O2 celebrates its 10th birthday by offering free climbs to fellow Cancerians born between 21 June and 22 July
The award-winning attraction has welcomed almost 1 million visitors over the last decade, including a host of celebrity climbers
Celebrating its 10th birthday on Tuesday 21 June, Up at The O2, London's leading roofwalk attraction, is offering lucky visitors the chance to join in on the celebrations with a free climb over The O2, the world's most popular music, entertainment and leisure venue.
Open to anyone born between the 21 June and 22 July, Cancerians can register for the chance to win a pair of tickets for an unforgettable 90-minute outdoor climb on Tuesday 21 June, guaranteeing stunning panoramic views set against the backdrop of the UK's capital. Climbers will enjoy a glass of Champagne Lanson at the summit (soft drink options also available), and celebratory cupcakes following their climb.
The free climb slots for Cancerians will take place at 18:00, 18:15 and 18:30 on Tuesday 21 June. Tickets are available in pairs, and only one member of your party needs to be a Cancerian and born between 21 June and 22 July to be eligible for the free climb slots. To register your interest, please visit the following link and fill out your details by Sunday 12 June: https://www.theo2.co.uk/up-at-the-o2/10th-birthday-climbs. Successful climbers will be contacted by Wednesday 15 June.
It's been an eventful decade for Up at The O2, as the attraction has welcomed almost 1 million climbers from across the globe since opening in 2012, alongside a string of award wins including the London and Partners Accessibility and Inclusion Award in 2012, and the TripAdvisor's Travellers' Choice Award in 2021, placing it in the top 10% attractions worldwide.
The London attraction has also played host to a number of unforgettable performances and events on the roof of The O2, including silent discos, HIIT classes, drag queen performances, stand-up comedy and yoga. Up at The O2 also welcomed its oldest ever climber last year, Harry White, who scaled the 52m-high structure on his 100th birthday.
A decade of Up at The O2 in numbers:
Almost 1 million climbers
Over 400 marriage proposals at the summit (all but two have said yes)
80+ celebrity climbers, including Kevin Hart, Maya Jama, and Ant & Dec
Over 60,000 glasses of Champagne Lanson enjoyed at the summit
20+ live performances, including Tinie Tempah, Anne Marie and Thirty Seconds to Mars
Dan Hurst, Head of Attractions at Up at The O2 said: "Since opening in 2012, Up at The O2 has cemented its place as a world-leading attraction. This summer will see our 1 millionth visitor grace The O2's iconic roof, rounding off a year that will also see The O2 celebrate its 15th birthday on Friday 24 June. From marriage proposals, stand-up comedy gigs to intimate performances, we're excited about what the next decade will bring to the world-famous roof and have some exciting plans in the pipeline to enhance the visitor experience even further."
Up at The O2 offers a range of climb options, including daytime, twilight, sunset and Celebration climbs, where climbers can enjoy a glass of Champagne Lanson at the summit.
After finishing your climb, why not make a day of it at The O2? Located just 15 minutes from central London and easily accessible by car, tube and boat, the destination is home to over 30 bars and restaurants; outlet shopping at over 60 brands with up to 70% off RRP including, adidas, Calvin Klein, Nike; interactive attractions TOCA Social and BOOM BATTLE BAR; and lots more.