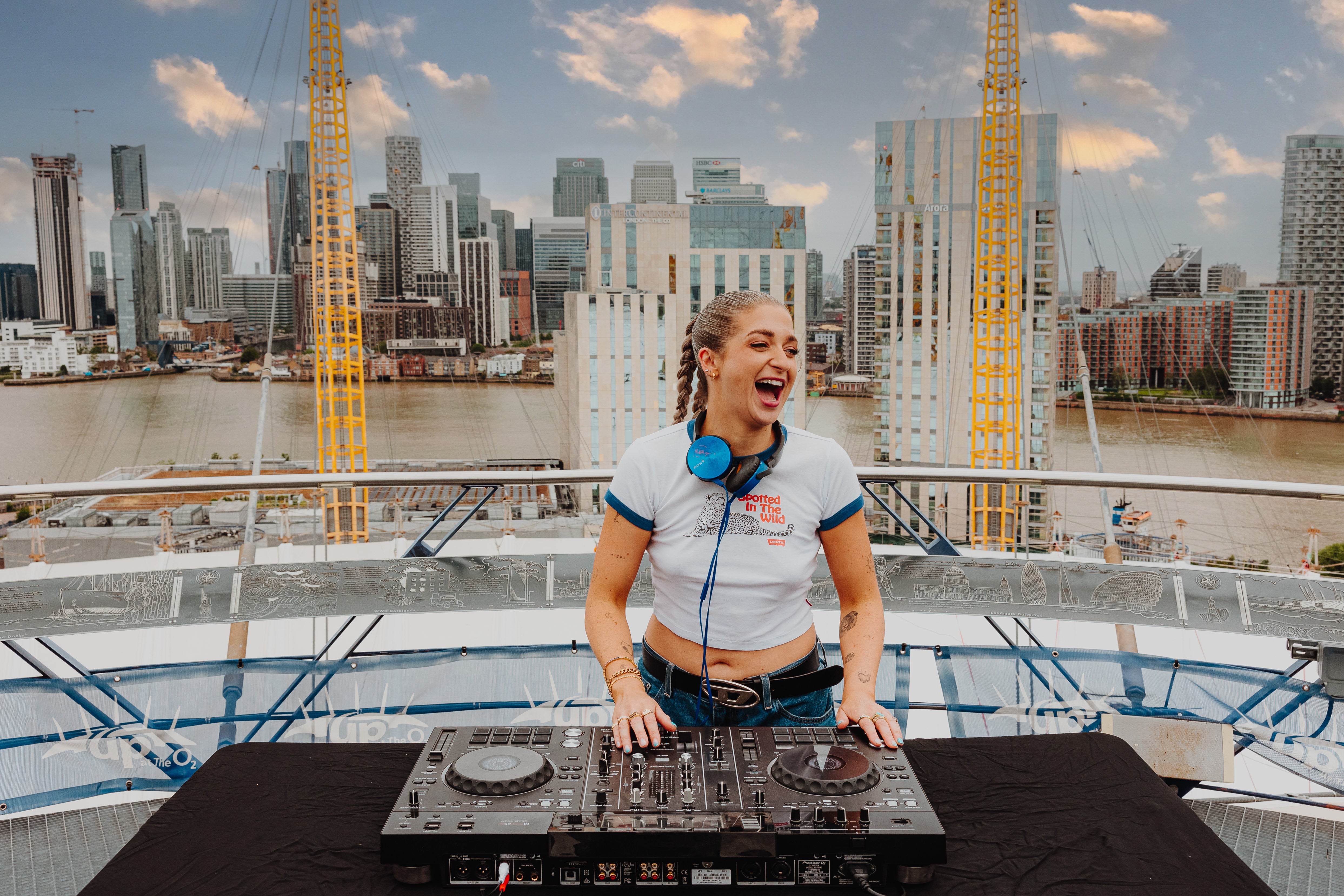 9

Aug

2023
KISS FM starlet Harriet Rose leads Silent Discos with Up at The O2
Like high adrenaline activities? Like getting down to old-skool bangers and the latest chart-topping anthems? If you answered yes to either question, then there's a late-summer series happening at Up at The O2 you're not going to want to miss.
On the evenings of Friday 8th, Friday 22nd and Friday 29th September, the award-winning attraction is putting on eight silent disco events – only they're not your run of the mill silent discos. They're happening 52-metres above ground level, at twilight (with the iconic roof lit up, thanks to twinkling lights all along the walkway), with the incredible beats coming courtesy of KISS FM's inimitable, unstoppable presenter and DJ, Harriet Rose.
While Harriet's keeping her 20-minute playlists close to her chest (there's the live shows and an alternate second channel), the KISS Breakfast and KISSTORY pocket rocket has vowed to take guests to new heights when they reach the summit and don their headphones after their guided climbs to the top.
As well as getting down to the tunes, attendees will be able to take in breath-taking 360° views of Greenwich, Canary Wharf and the Olympic Park, and they'll look the part too – before setting off from Up at The O2's Base Camp, a team of glitter make-up artists will be on hand to add a little sparkle to proceedings, literally. Make sure you get there early to avoid disappointment and get fully glittered before heading up to the roof!
Leaving no stone unturned, Up at The O2 is even throwing in a complimentary soft drink with every ticket – so those who throw serious shapes at the top and work up a sweat can quench their thirst with a cool bottle of Pepsi Max, 7up Zero or Tango Orange.
Commenting on the upcoming gigs, Harriet Rose said: 'I CANNOT WAIT to hit the roof, drop some bangers and get the party started with Up at The O2. These gigs are going to be epic and I'm going to be bringing my A-game. As to exactly what beats I'll be playing, it's a secret for now. If you wanna find out, go book a ticket!"
Dan Hurst, Head of Attractions at Up at The O2 said: "We've got a long history of offering our customers something truly unique and special on the roof of The O2 – these silent discos are the latest and I've got a feeling they're going to be very popular indeed. Harriet brings so much energy and expertise. She's a brilliant DJ and a huge personality. The silent disco series is a lovely way to close out the summer. Demand - like the summit of Up at The O2 - is going to be sky high. All I'd say is book your ticket now to avoid disappointment".
Tickets are available for the silent disco series now. They are priced at £55 per person, and climbers can also upgrade their ticket to enjoy a glass of bubbly at the summit for an additional £8. O2 and Virgin Media customers can also claim an extra 20% off their silent disco climbs by booking tickets via Priority.
The full event schedule is as follows. Climbers are advised to arrive at Base Camp a minimum of 15 minutes pre-climb for required health & safety briefings. For those wanting to make use of the glitter make-up station, please arrive 45 minutes pre-climb.
Friday 8th September
*Climbs start at 19:30 and 20:00
Friday 22nd September
*Climbs start at 19:00, 19:30 and 20:00
Friday 29th September
*Climbs start at 19:00, 19:30 and 20:00
For more information, and to book your ticket, visit https://tickets.aegeurope.com/upattheo2/special-events/silent-disco.html
For those looking to make a day of it, The O2 is also home to over 30 bars and restaurants, as well as Outlet Shopping, with over 60 designer brands at up to 70% off RRP all year round, including adidas, Clarins, Levi's, Nike, Tommy Hilfiger and more. A full day out destination, why not try your hand at one of the many activities or experiences on offer at The O2 on your visit, from indoor skydiving with iFLY, to axe throwing at BOOM BATTLE BAR and even trampolining with Oxygen Freejumping. Located just 15 minutes from central London, and easily accessible by tube, road or boat, there's something for everyone at The O2.