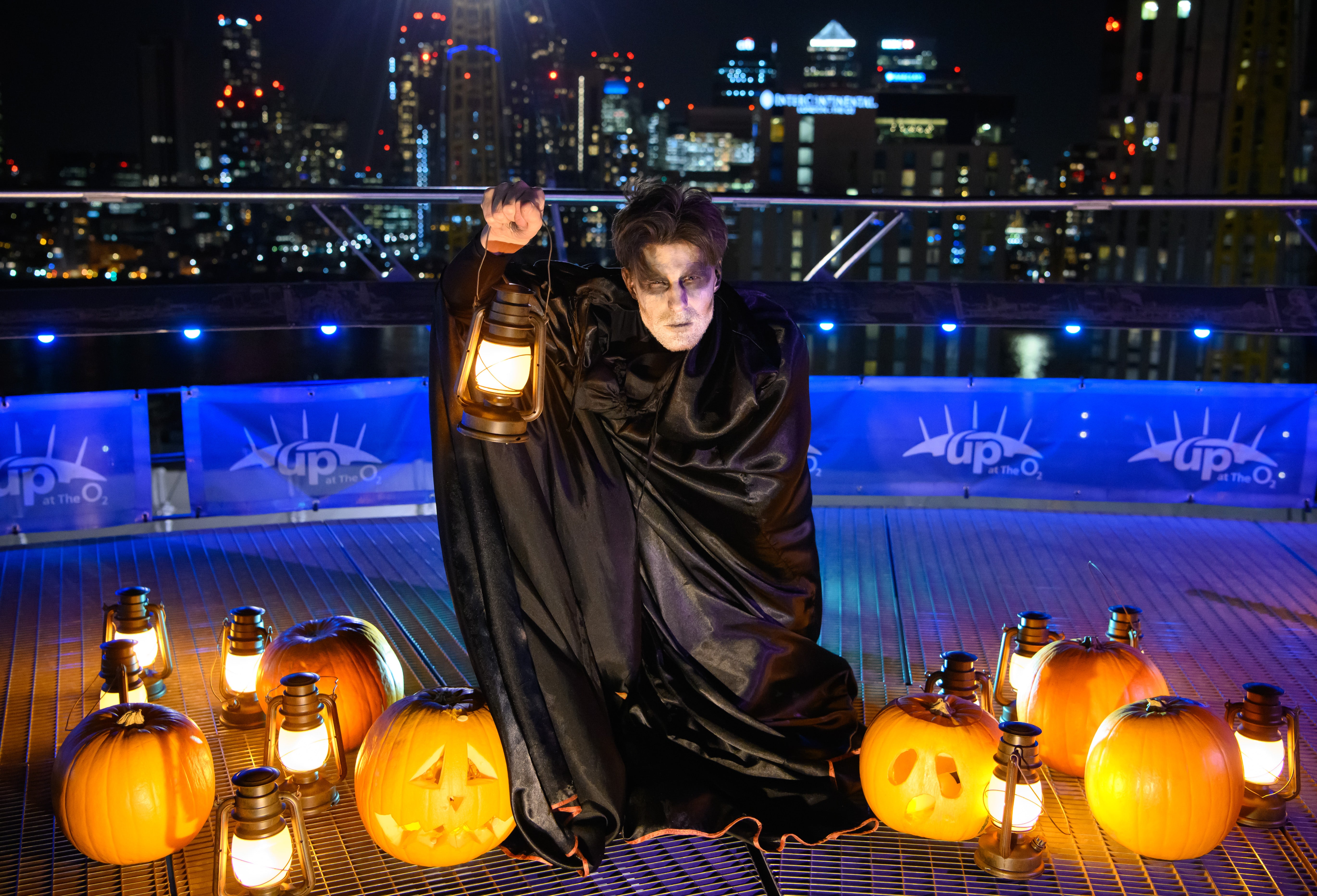 11

Oct

2023
London's haunting tales reach new heights with Ghost Stories on Up at The O2
For those of a spookier persuasion, there will now be a new and unique way to hear London's darkest lore told – 52 metres above the city, with views over some of the most notorious sites, on the viewing platform of Up at The O2
From the legend of Jack the Ripper to a host of haunted cemeteries, sinister smugglers and grisly executions - London has always been a city deliciously rich in creepy tales. Thrill-seeking climbers will get the opportunity to hear a bone-chilling tale under the cover of darkness on top of the world's most popular music, entertainment, and leisure destination.
Before they submit to these eerie tales, the intrepid climbers will have to scale The O2's roof. This will seem a mere trifle when compared to the real heart-thumping stuff however: because there, a mysterious storyteller will recount the bone-chilling story of the city they see below, including the 360° views of Greenwich, Canary Wharf and the Olympic Park.
The spooky climbs will take place on Monday 30th and Tuesday 31st October, with two sessions available each day to book in advance from Monday 9th October.
Dan Hurst, Head of Attractions at Up at The O2 said: "Climbers should prepare themselves for a fright of new heights this season. Here at Up at The O2, we're thrilled (and petrified) to launch Ghost Stories and give thrill-seekers the opportunity to take their fears sky-high in a way that none of the 1million brave souls who have climbed before will have experienced. Make sure to book your spot quickly, we're sure this is going to be a hit amongst humans… and ghosts alike!"
Climbs are available for those aged 8+ and are suitable for all fitness levels. Tickets are available for £40 per person. For more information and to book your Ghost Stories climbing experience, click: https://tickets.aegeurope.com/upattheo2/special-events/ghost-stories.html
The full event schedule is as follows. Climbers are advised to arrive at Base Camp a minimum of 15 minutes pre-climb for required health & safety briefings.
Monday 30th October
*Climbs start at 19:00 and 19:45
Tuesday 31st October
*Climbs start at 19:00 and 19:45
For those looking to make a day of it, The O2 is also home to over 30 bars and restaurants, as well as Outlet Shopping, with over 60 designer brands at up to 70% off RRP all year round, including Adidas, Clarins, Levi's, Nike, Tommy Hilfiger and more. A full day out destination, why not try your hand at one of the many activities or experiences on offer at The O2 on your visit, from indoor skydiving with iFLY, to axe throwing at BOOM BATTLE BAR and even trampolining with Oxygen Freejumping. Located just 15 minutes from central London, and easily accessible by tube, road or boat, there's something for everyone at The O2.