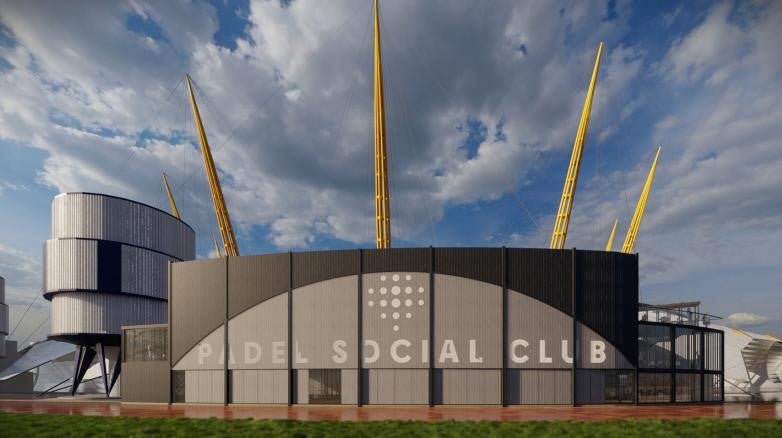 15

Sep

2023
Padel Social Club To Launch Best in Class Courts & Club at The O2, Spring 2024
12 Sept 23, London, UK - Padel Social Club is making waves in the sports and lifestyle space with its announcement of planning permission to establish a remarkable new facility at The O2, the world's most popular live entertainment, leisure, and retail destination. As the popularity of padel continues to soar, UK demand far outweighs the number of courts available, and this state-of-the-art development will offer padel enthusiasts an exceptional and accessible indoor experience.
Set to become a hub for Padel players, Padel Social Club at The O2 will occupy thirteen thousand sq ft at the destination and house three indoor courts. In addition to these, the facility will boast an array of amenities designed to enhance the social nature of the sport. Guests can enjoy vibrant social areas, a stylish bar, a cosy cafe boasting curated food menus from rotating partnerships with different restaurants and chefs, modern changing rooms, and a mezzanine with breath-taking riverside views.
The O2 has already established itself as a sought-after destination for leisure, retail, and F&B, with operators such as iFLY Indoor Skydiving, TOCA Social, and Boom Battle Bar embedded within its offering, making it the perfect location for Padel Social Club to expand its operations. Not only will the club be a permanent fixture at The O2, but it is hoped to become a gateway to host professional international padel events at The O2 in future years.
Janine Constantin-Russell, Managing Director of The Entertainment District at The O2 speaks of this development, "Leisure is a core part to the fabric of The O2, and we are always evaluating the ways that we can take it to the next level, and we believe Padel Social Club does exactly this. Not only will the concept complement our existing offer, but the sport has become an international phenomenon which will perfectly cater to our varied visitor demographic. What's more, the offering reinforces our reputation of delivering an unmatched all-encompassing experience, and we look forward to having Padel Social Club as part of our The O2 family."
This exciting announcement follows Padel Social Club's successful ventures, including its courts at Soho House's Babington House which launched last year and an innovative pop-up in Cannes for well renowned real estate conference, Mipim. Padel Social Club is next coming to Empress Place in Earls Court in just a few week's time with a show court until late October. By bringing their expertise and commitment to creating a full lifestyle experience, Padel Social Club aims to revolutionise the way padel is enjoyed in the city.
Rob Heasman, CEO of The Earls Court Development Company speaks of the Empress Place new courts, "The Earls Court site has long been a stage for world-class culture and entertainment. It hosted the Olympics games twice and we are delighted to build on this sporting legacy and bring padel to Earls Court. We have a vision to bring the wonder back to Earls Court, bringing padel is part of delivering on this vision from the earliest stages."
In 2022 padel clubs held €1,2BN in global market value and the sport has been growing by over 25% year on year. In 2022, courts in the UK were up 100%, but it still holds some of the lowest numbers by comparison to its European neighbours, according to the Playtomic's Global Padel Report.
With the launch of The O2 facility, alongside future announcements of other flagship clubs in London and around the country in the works, Padel Social Club is set to redefine the landscape of Padel in the UK, and it reflects in the esteemed investors it has secured. Backed by leading consumer investment fund Active Partners, alongside angels and various England International pro-athletes, Padel Social Club is on a mission to build the UK's premier Padel community.
Tom Profumo, Partner at Active Partners comments: "With Padel being the fastest growing sport in Europe, and a limited number of padel courts currently available in the UK, there is a huge opportunity for a premium and community-focused brand like Padel Social Club to take a leading position in the UK market. As consumer investors who have partnered with a host of community-led brands like Soho House, Rapha and Secret Cinema, we are excited to work with Kristian and the team to bring their distinct padel experience to enthusiasts in London and across the UK."
"It's incredibly exciting to see these projects come to life, " says Kristian Hunter, CEO of Padel Social Club. "Since we started the business we've been incredibly focused on trying to bring our clubs to iconic locations and there is hardly anything more iconic than The O2. This, alongside our imminent showcourt in Earls Court, in such a central London location, will be a great platform to showcase the Padel Social Club experience. Looking at the success of the best Padel clubs in Europe we've always felt there was a market in the UK to build Padel Clubs with a big part of the experience focused on the social nature of the game, and our passion for delivering the best possible experience both on and off the court will hopefully satisfy an untapped consumer demand".
ENDS