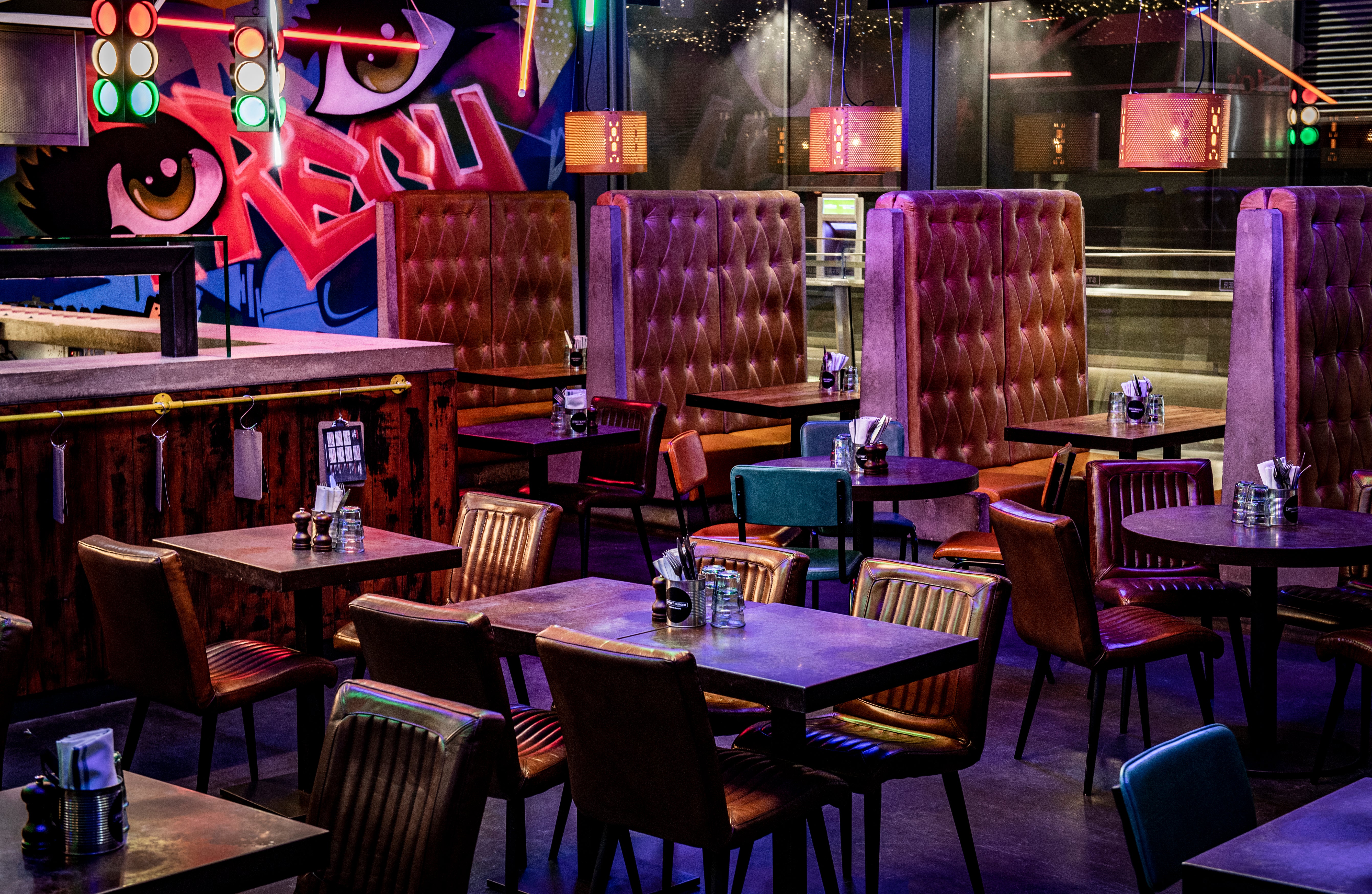 8

June

2021
Summer Looks Set to Be Even Brighter This Year as Gordon Ramsay Restaurants Announces 175-seater Street Burger to Open at London's Iconic The O2
Gordon Ramsay, one of the world's most famous chefs, is teaming up with The O2, the world's most popular, music, entertainment and leisure venue, to create a delicious new dining destination when Street Burger opens in the main Entertainment District this summer, July 2021.
"The O2 is a perfect location for our Street Burger brand" said Andy Wenlock, CEO of Gordon Ramsay Restaurants. "We are very excited to open this incredible new restaurant at such a prominent visitor attraction. This new site is our biggest Street Burger yet, with seating for 175 guests spread across 2 floors and incorporating a patio terrace right in the heart of the very popular destination."
Graffiti murals, neon lighting and industrial furniture creates an urban street vibe, where eclectic art, style and design all come together in a unique dining environment.
The mouth-watering Street Burger menu will offer the 7 tasty statement burgers that Street Burger fans have heaped complimentary comments on across @gordonramsaystreetburger social channels #wow perfection #delish #mouthwatering. Made with stunning ingredients sourced from British providers from around the UK. The OGR, #BAE and Hell's Kitchen Burgers are made with our unique Lake District Beef burger patty. The JFC burger is a delicious spicy fried chicken burger, while the Butternut Bhaji and Not So Simple Burgers are meat free and completely delicious. Guests can enjoy any burger with fries and unlimited soft drinks for an incredible £15.
The menu also offers sweet creamy milkshakes, blended to order & made with fun flavours such as Oreo, popcorn and Gordon's signature Sticky Toffee Pudding. Street Burger also has a range of beers and freshly mixed cocktails that are designed to complement the menu.
Speaking on behalf of Waterfront Limited Partnership, the joint venture between AEG and Crosstree Real Estate Partners who own Icon Outlet and the Entertainment District at The O2, Alistair Wood, Executive VP of Real Estate and Development at AEG Europe commented: "We have made great strides throughout lockdown enhancing and varying our tenant mix. We are delighted with the addition of Gordon Ramsay's Street Burger, another great offering to help diversity and drive the scheme forward as restrictions ease and content begins to come back to our venues."
The O2 is just 15-minutes from central London and easily accessible by tube, (North Greenwich via the Jubilee line) by road or Uber Boat by Thames Clippers and has pre-bookable parking spaces available onsite.