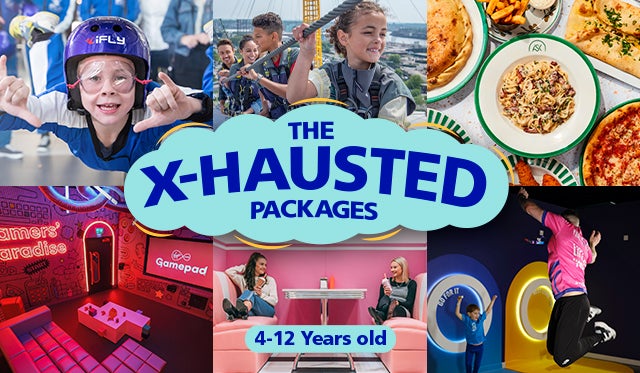 1

Aug

2023
The key to getting kids to sleep this summer; natural light, physical activity and... turtles?
The O2 teamed up with sleep experts to create 'The X-Hausted Packages' – summer day out packages based on sleep science to help send kids to sleep (at the end of the day)
The O2 and sleep expert Dr Maja Schaedel explain a sequence of activities parents can follow to make it easier for kids to fall asleep at bedtime during the summer holidays
Start the day with natural light, followed by physical activity which gets the heart going, lunch, mental stimulation and group play, and end with the Teenage Mutant Ninja Turtles and a chat on the way home
The O2 has developed The X-Hausted Packages following this formula, with all the activities you need to tire kids out available under one iconic roof, from trampolining and video gaming, to London's largest cinema
Research reveals that 50% of parents find getting kids to sleep the biggest challenge during the summer holidays, and 90% admit they purposely seek out activities that will wear their kids out.
The 'Enigma Code' of parenting has been solved. As any parent knows, keeping kids happy and entertained during the summer holidays is tricky, but according to new research, 50% of parents find getting their little ones to sleep to be the biggest challenge. That's why The O2, the world's most popular live entertainment, leisure and retail destination, has teamed up with sleep psychologists to curate The X-Hausted Packages – two 'ultimate fun day-out' itineraries that have been specially designed based on sleep science to help send kids to sleep at bedtime, and not before.
The leading London destination has teamed up with one of the nation's leading authorities on sleep, Dr Maja Schaedel of the Good Sleep Clinic, to develop a formula that controls kids' body clocks with the correct sequence of energy output, mental stimulation, nutrition, and downtime. This has then been used to create The X-Hausted Packages, with all the activities needed to tire out kids available under one iconic roof at London's The O2.
Validating the need for the packages, research conducted by The O2 revealed that 90% of parents look for activities that will wear their kids out when planning day trips, and that 70% of parents find it 'annoying' if their kids are unable to sleep after a day out. According to Dr Schaedel, parents should try the formula below on a day out before arriving home for tea, bath time and bedtime:
Natural Light + Physical Activity + Lunch + Mental Stimulation + Group Play + Movie + Chat
With timing and sequencing the key to managing body clocks and energy levels, The O2 has worked with Dr Schaedel to curate The X-Hausted Packages for two different age groups; 4 to 7 year olds and 8 to 12 year olds.
THE X-HAUSTED PACKAGES
Based on 7:00am - 7:45am wake-up, and breakfast before 8:30pm.
9.00am - natural light; Exposure to natural light and getting kids outside will kickstart their body clocks and reduce the production of the 'sleepy hormone' melatonin
*BOTH AGE GROUPS: Hop on the Uber Boat by Thames Clippers to North Greenwich for The O2, plus save with a Family River Roamer ticket where kids under 15 travel for FREE
10:30am - high energy activity; The purpose of this is to build up 'sleep pressure' – the more of it kids have by the end of the day, the more likely they are to fall asleep. In the morning they should do something that gets their bodies moving AND their hearts racing.
*4 TO 7 YEARS: Trampolining at Oxygen Freejumping, which is also home to soft play areas and a range of activity zones
*8 TO 12 YEARS: Climb up and over the roof with Up at The O2 on a 90-minute, unforgettable guided climb from £35pp
12:00pm - lunch; In order for kids to engage in physical and mental activities, they have to keep up their energy supplies throughout the day. An ideal lunch would include some protein (like chicken, beans or fish), some carbohydrates (such as rice, bread or pasta – and if it's wholegrain then even better) and some fruit & veg.
*BOTH AGE GROUPS: Step in to one of over 30 onsite restaurants – there's a myriad of cuisines to choose from. For 'grab and go' lunches try Five Guys, Marugame Udon, or the newly opened Chipotle. For sweet treats, head to Snowflake Gelato or Haute Dolci
1:30pm - mental stimulation; As well as wearing kids out physically, you need to work their brains too. Contrary to what fusty old people will tell you, playing video games is one way to do this (though limit it to an hour as too much screen time can overstimulate them).
*4 TO 7 YEARS: Head to iFLY Indoor Skydiving to watch the balletic skydivers do their thing in the wind tunnel
*8 TO 12 YEARS: Get video gaming for FREE with the latest Xbox blockbusters at the newly opened Virgin Media Gamepad
2:00pm - social interaction; Anxiety is one of the biggest barriers to sleep for kids. Connecting with other kids, or family, through play, will help them feel less anxious and happier.
*4 TO 7 YEARS: Strike it lucky at Hollywood Bowl OR score some worldies at interactive football gaming experience TOCA Social
*8 TO 12 YEARS: Head outlet shopping at The O2 to grab some discounted accessories from Beauty Outlet or Claire's before hitting up Selfie Factory for picture perfect moments, OR let them get their game on at BOOM BATTLE BAR, with mini golf, ping pong and more
3:00pm - wind down with a movie; Now's when you want to start making the 'first approaches' to bedtime, a bit like when a plane begins its descent. Two hours seated in comfort in the dark engrossed by the big screen (it's passive technology – they don't have to interact with it), is ideal.
*4 TO 7 YEARS: Take in the new Disney & Pixar feature, Elemental at London's largest cinema, Cineworld at The O2
*8 TO 12 YEARS: Get radical! Watch Teenage Mutant Ninja Turtles; Mutant Mayhem at Cineworld – save with a Family Ticket where adults pay kids prices
5:00pm - chat on the journey home; You don't want to undo all your good work and have your kid fall asleep when the end is in sight. Chatting about your day is a good way to keep them awake while also encouraging engagement with you.
Complete with the below;
6:00pm – dinner; high in protein foods are good. Avoid high carbohydrate foods, and too much sugar for pudding. Crucially, have your child eat TWO hours before bedtime.
7:00pm – a hot bath; You need their core body temperature to come down by one to two degrees. A hot bath initiates a process of rapid cooling as the blood comes to the surface of the skin in order to cool quickly upon getting out.
8:00pm – they go off to the land of nod…
Dr Maja Schaedel said: "When planning a day with your kids' sleep in mind, it's important to have a balance. You can have an action-packed day of activities but without rest and times to engage with others it can lead to wide awake, irritable kids and worn-out parents at the end of the day. The X-Hausted Packages at The O2 are great suggestions for how to have the right balance of activities at the right times and even the Teenage Mutant Ninja Turtles may end up having a role to play in helping parents over the school holidays."
Janine Constantin-Russell, Managing Director of the Entertainment District and Icon Outlet at The O2 said: "The X-Hausted Packages are the first ever days out that have been meticulously planned and rooted in science, all for the purpose of sending kids to sleep. Every
parent knows that kids need plenty of stimulation and a variety of activities to beat off boredom. With a range of attractions, shops and restaurants under one roof at The O2, we've got everything to tire kids out and ensure they've had a great time along the way. With the help of Dr Schaedel, we now have the perfect formula for parents to put it all together and use the activities in the right order."
The O2 is located just 15 minutes from central London and is easily accessible by tube, road, and boat. To learn more about everything there is to do at The O2, and to book your day out at The O2 with activities from The X-Hausted Packages, visit our website here: https://www.theo2.co.uk/.