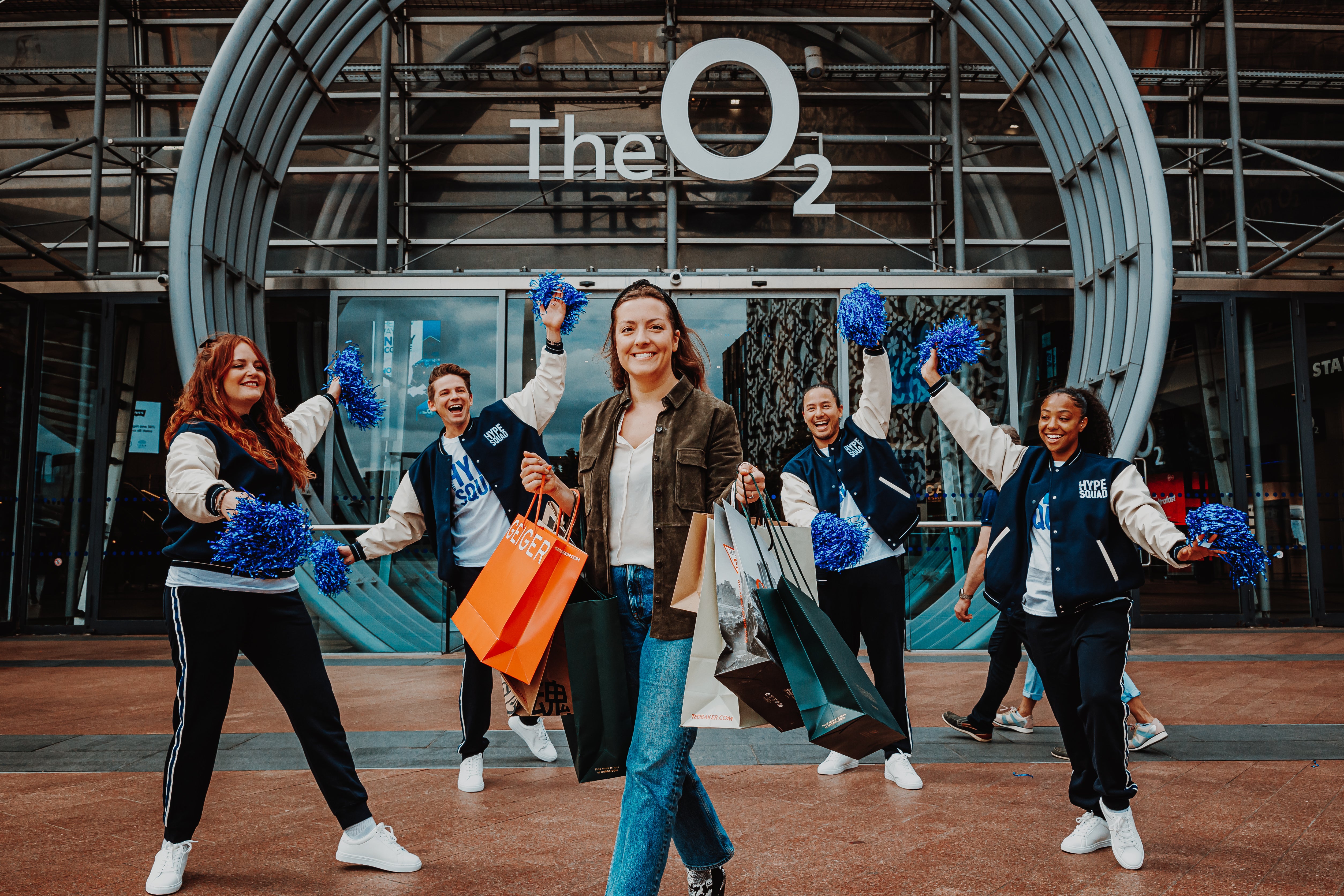 24

May

2023
The O2 launches new 'Hire a Hype Squad' service to banish shopping regrets
Holidays, weddings, barbeques and get togethers in balmy back gardens… the busy Summer social calendar can strike fear and pose a range of wardrobe worries to even the most sartorially savvy. To make sure the nation's shoppers find those elusive 'must-have' items for every occasion and stay feeling fabulous in the process, The O2 is launching a first-of-its-kind 'Hire a Hype Squad' service.
On Thursday 1 and Friday 2 June, shoppers will be able to book the ultimate dream team of retail accomplices ahead of shopping trips to The O2, who will not only ensure their shopping needs are fulfilled but keep spirits high and shoppers motivated throughout the duration of their trip.
The free 'Hire a Hype Squad' service is bookable in advance and will last 90 minutes – allowing plenty of time to source must-have items from over 60 brands, including Levi's, Nike, Reiss, Superdry, and more, and ensure eager shoppers have fun and excel the task at hand. Plus, with everything up to 70% off RRP, there's even more reason to leave with a smile on your face.
The launch comes following new research from The O2 that reveals two-thirds of Brits (64.8%) still think about an item that they wish they bought but didn't, and that crushingly eight out of 10 Brits (80.8%) think they would have made the missed purchase had they been with someone who had given them positive encouragement. The nation's need for reassurance does not end here: 71% of Brits are more likely to make a purchase if someone compliments them while they are trying it on.
Janine Constantin-Russell, Managing Director of the Entertainment District and Icon Outlet at The O2, comments: "We all need that one supportive friend who will give great fashion advice to ensure we look and feel amazing for any event, and leave with no regrets. That's why we're delighted to launch this first-of-its-kind service for our discerning shoppers visiting The O2. Not all shopping partners were created equal, and we're confident that our exceptional Hype Squad will help avoid many cases of missed fashion moments for our shoppers!"
Running from 10am to 4pm on Thursday 1 and Friday 2 June, the 'Hire a Hype Squad' service is available free of charge for shoppers visiting The O2 and is bookable in advance by clicking here. When arriving at The O2, just head up the golden staircase to the Upper Level of the shopping outlet to find the Hype Squad team based opposite Cloud 9.
Shoppers visiting The O2 will also be able to take advantage of the VIP Shopping Event, which offers extra discounts on a wide range of household name brands. Running throughout the May half term week through to Sunday 4 June, savvy shoppers who sign up to the VIP Shopping Event online can claim extra savings of up to 20% at brands including adidas, Calvin Klein, Hackett, Tommy Hilfiger and more. To find out more about Outlet Shopping at The O2, and sign up to the VIP Shopping Event, click here.
For those looking to celebrate their successful shopping trips, why not enjoy a full day out at The O2? Spend just £35 outlet shopping to receive 4 hours free parking at The O2, and enjoy everything the world's most famous live entertainment, leisure, and retail destination has to offer. From interactive gaming at TOCA Social and BOOM BATTLE BAR, to Hollywood Bowl and London's largest cinema, Cineworld, as well as over 30 bars and restaurants, there's plenty of activities to keep the whole family entertained this half term – and all under one iconic roof.
The O2 is located just 15 minutes from central London and is easily accessible by road, tube, and boat. For more information on planning your visit, please visit The O2's website here.