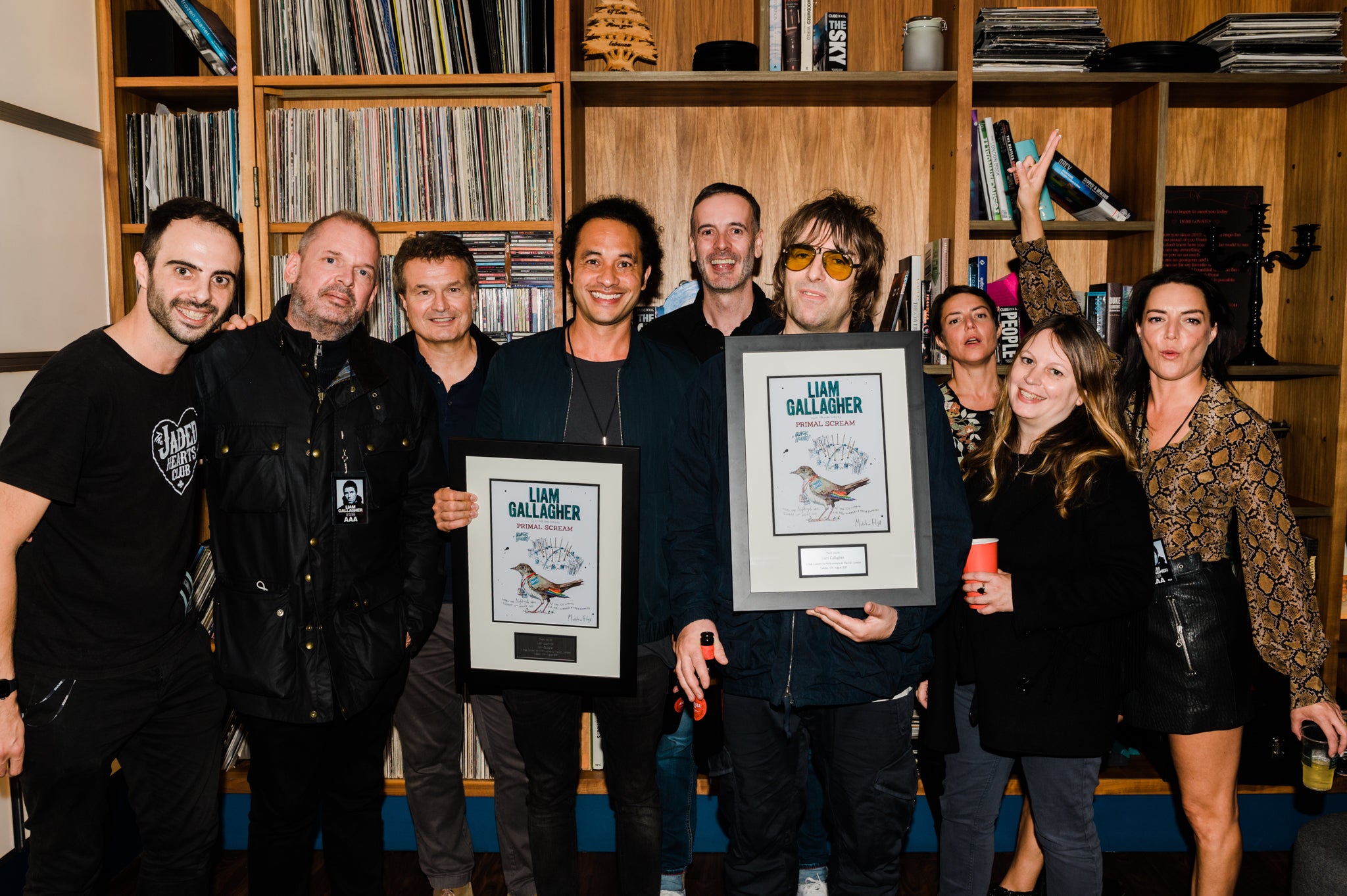 19

Aug

2021
The O2 present Liam Gallagher with commemorative artwork to mark NHS show
Following the reopening of The O2 arena last week, NHS workers and their families were invited back to the world's most popular music, leisure and entertainment venue on Tuesday 17 August to enjoy a free gig from Liam Gallagher.
To commemorate the event, which was to thank all NHS staff who have been working tirelessly to keep us safe, The O2 presented Liam Gallagher with a specially commissioned piece of artwork, created by British artist and illustrator Madeleine Floyd who designed the original piece of nightingale artwork to commemorate the NHS Training Facility at The O2 in 2020.
Steve Sayer, VP & General Manager at The O2 said: "It was fantastic to welcome both NHS workers and the one and only Liam Gallagher back to the arena last night. The NHS staff have worked so hard to help keep us safe over the course of the pandemic, and we're proud that we could offer a night to celebrate the workers and show our appreciation for all that they've done. Having only reopened the arena recently, it was incredible to experience the buzz of another live show – the atmosphere in there was electric. Thanks to Liam, Primal Scream and Black Honey for putting on such an amazing show. Big thanks must also go to Live Nation, SJM Concerts and Paradigm for helping to make this happen. We're officially back and raring to go again."
Following the show, the National Arenas Association (NAA) and Liam Gallagher also presented a special award for 'Outstanding Contribution to the Live Entertainment Industry' to Chris York of SJM Concerts in recognition of his influential work in the music industry, and longstanding relationship with Liam.
John Drury, VP & General Manager at The SSE Arena Wembley, on behalf of the NAA said: "It's fitting that Chris York should be given his NAA Award by Liam, one of the UK's biggest artists. The 2021 award honours Chris for the huge contribution he's made to live music in the NAA arenas. His passion and commitment to the industry has always been reflected in the very high regard in which he's held by everyone he works with - it's an honour to recognise that now."
Chris York, SJM Concerts added: "I was genuinely touched to receive the NAA award in recognition of the decades of toil in live music, with the great team of SJM Concerts behind me. It means a lot. It's a great business and one I hope to see bounce back strongly again. Thank you for thinking of me."