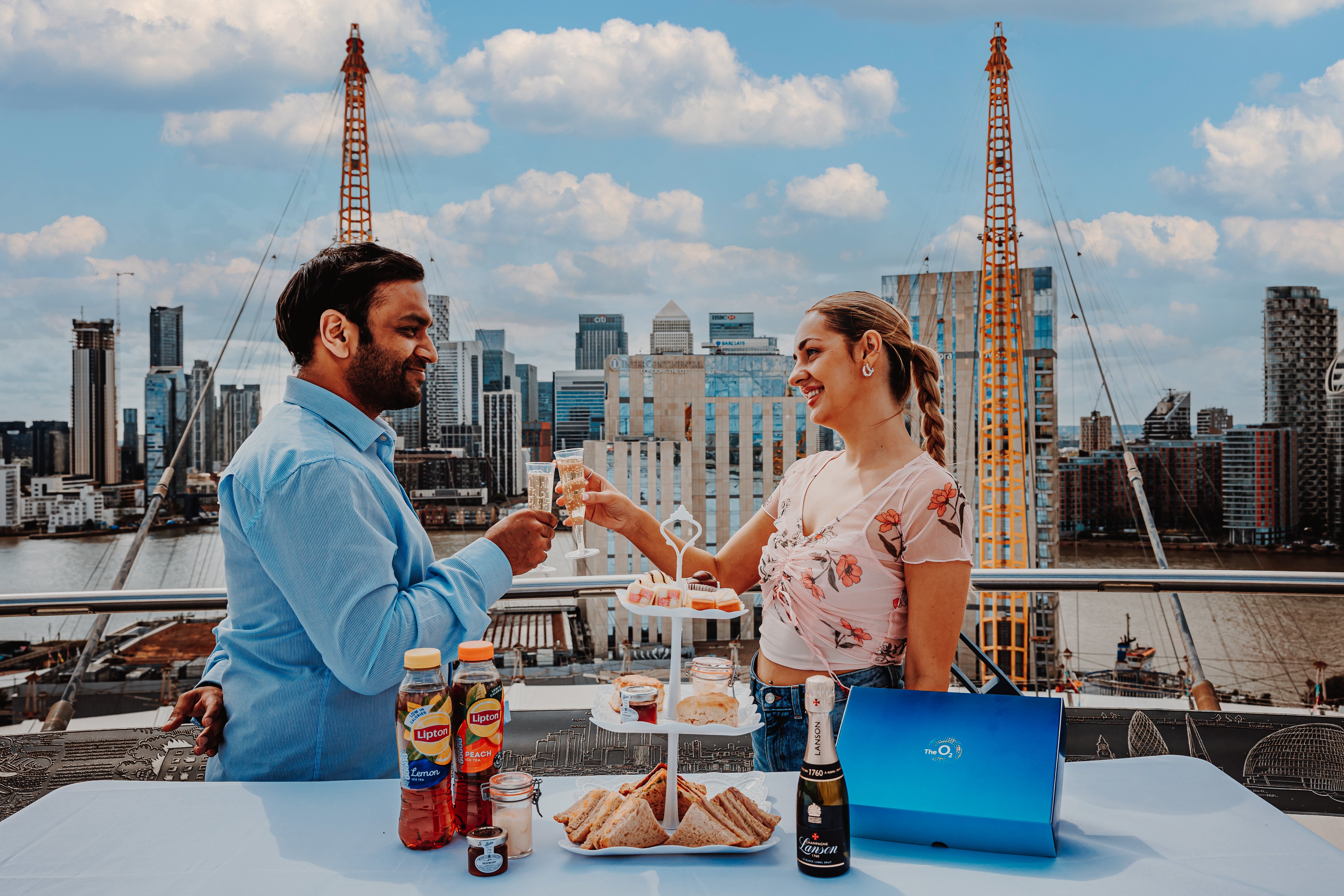 26

June

2023
Up at The O2 launches al fresco afternoon tea on the roof
Afternoon Tea is an age-old great British tradition, and this year Up at The O2 is quite literally taking this revered culinary ritual to new heights with the launch of its sky-high Afternoon Tea experience this August.
Set atop the world-famous venue, for the first time ever Up at The O2 climbers will be treated to a beautiful selection of precisely cut sandwiches, freshly baked scones, delectable cakes and a refreshing Lipton Iced Tea when they reach the summit. Taking place during select climbs in Afternoon Tea Week (running from the 7th to the 12th of August), there will be three sessions available to book in advance at 14:30, 15:00 and 15:30 on Thursday 10th August.
Following a guided climb up and over the world's most popular live entertainment, leisure and retail destination, climbers will enjoy extended time on the roof with some well-earned tasty treats 52m above ground level. Following in the footsteps of over 1 million other climbers, they can take in 360° views of Greenwich, Canary Wharf and the Olympic Park at the summit – the perfect backdrop for a classic British Afternoon Tea.
Dan Hurst, Head of Attractions at Up at The O2 said: "We're thrilled to introduce Afternoon Tea for climbers visiting Up at The O2 this summer, in celebration of Afternoon Tea Week. We're proud to be putting our very own sky-high twist on this much-loved British pastime, providing an Afternoon Tea that's totally unique and stands above the crowd (52m above to be precise!). We're sure this is going to be a sell out, so would encourage all Afternoon Tea aficionados to book in quick!"
Climbs are available for those aged 8+ and are suitable for all fitness levels. Tickets are available for £40 per person. Advance booking is required for this experience, and any dietary requirements will need to be submitted here by Wednesday 26th July to ensure availability. For more information and to book your Afternoon Tea climbing experience, click here.
For those looking to make a day of it, The O2 is also home to over 30 bars and restaurants, as well as Outlet Shopping, with over 60 designer brands at up to 70% off RRP all year round, including adidas, Clarins, Levi's, Nike, Tommy Hilfiger and more. A full day out destination, why not try your hand at one of the many activities or experiences on offer at The O2 on your visit, from indoor skydiving with iFLY, to axe throwing at BOOM BATTLE BAR and even trampolining with Oxygen Freejumping. Located just 15 minutes from central London, and easily accessible by tube, road or boat, there's something for everyone at The O2.