Cable Car
Getting to The O2

Experience the cable car at night.
Discover a unique perspective of London's night sky – see The O2 from the air and the skyscrapers of Canary Wharf' with music and video.
There is no additional charge for evening flights.
Go for the ride
Book a 360 Sightseeing Tour and you won't even have to get off. Cabins arrive every 30 seconds and flights usually last ten minutes.
Getting here by tube
North Greenwich station is on the Jubilee Line in Zones 2 and 3. And it's right on our doorstep.
Get here from Central London in 20 minutes. Or Stratford in 10 minutes. Plan your journey at TFL.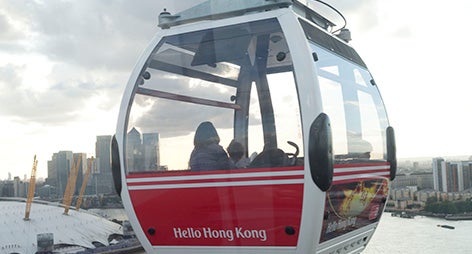 Flight times
Flight Information
Winter (1 October to 27 March)
Monday to Thursday: 7am to 9pm
Friday: 7am to 11pm
Saturday: 8am to 11pm
Sunday: 9am to 9pm
Summer (1st April - 30th September)
Monday - Thursday: 7pm to 10:30pm
Friday: 7am to 11pm
Saturday: 8am to 11pm
Sunday: 9am to 11pm