Coming to the show? Don't miss a moment. Head down early. Enhanced security is in place. Pack light, we only allow small bags into the arena.
Event timings: Doors: 18:30 // The Interrupters: 19:00 // Green Day: 20:00 // Finish: 22:50 (all event timings approx)
Close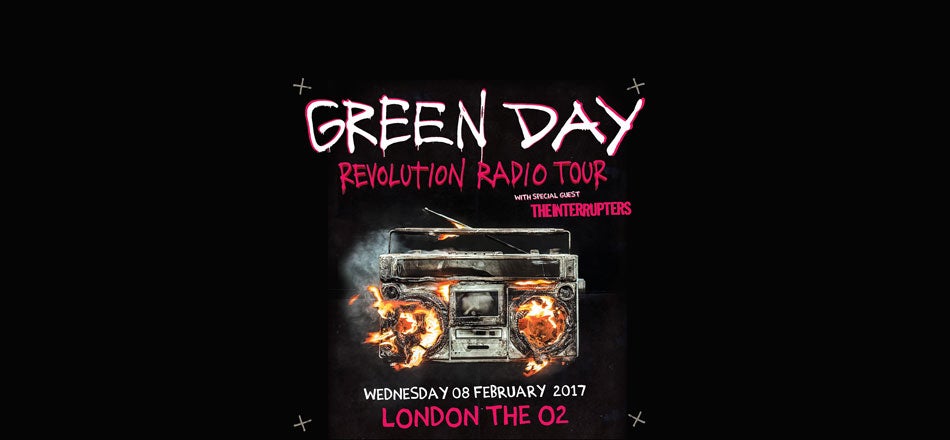 Green Day
at The O2 arena
Get access to exclusive updates and a heads-up on tickets.
As the release of their eagerly anticipated new album 'Revolution Radio' approaches, the legendary Green Day today announce details of their new UK arena tour. Joined by special guests The Interrupters, Green day will be coming to The O2 on 8 February 2017.
Produced by Green Day and recorded in Oakland, 'Revolution Radio' is a potent 12-track blitz of angst-ridden anthems that unites Green Day's stylistic approach with lyrical themes that address the complexities of modern day existence. Musically, the album is raw, visceral, and fearless – solidifying the band's reign as one of the leading voices in rock music.
"Of course the world has lost its collective mind… and me, Mike and Tré are lost souls too," said Green Day frontman Billie Joe Armstrong. "Revolution Radio is a movement for lost souls to come together, dance together, sing together, and most of all, find each other. That's what the spirit of Green Day has been about since day one."
Since breaking through in 1994 with the 'Dookie' album, Green Day – completed by Mike Dirnt (bass) and Tré Cool (drums) – have become one of the world's biggest bands with over 75 million worldwide sales. After a succession of hit albums, their 2004 rock opera 'American Idiot' reignited the band's popularity with a younger generation.