Coming to the show? Don't miss a moment. Head down early. Enhanced security is in place. Pack light, we only allow small bags into the arena.
Event timings // Doors: 18:00 // Lounge Kittens: 18:35 // REO Speedwagon: 19:10 // Status Quo: 20:40 // Finish: 22:25 (all event timings approx)
Close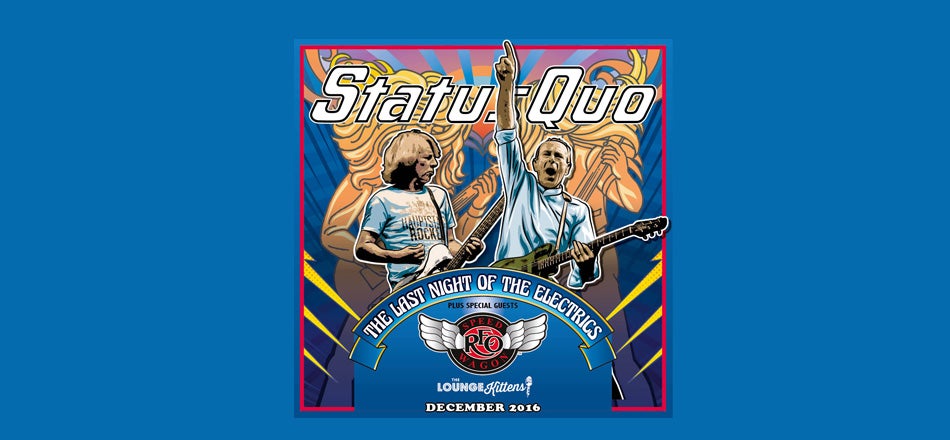 Status Quo
at The O2 arena
Get access to exclusive updates and a heads-up on tickets.
Status Quo announced that this year would see the last of their last full-on electric shows and the band will perform at The O2 on 11 December 2016 for a spectacular send off as part of their The Last Night of the Electrics tour. After this tour the Telecasters shall finally be unplugged and amps turned off.
Francis Rossi, Rick Parfitt, Andrew Bown, John 'Rhino' Edwards and Leon Cave will plug in and bring their thunderous electric live show back to the nation's venues for the last time. Packed with hits, both new and old, taken from that unbelievable back catalogue. If you love Status Quo, you need to be there; if you've never before seen this truly legendary act play a full full-throttle no-nonsense electric set, you need to be there! Status Quo will be joined on this run of dates by very special guests REO Speedwagon and The Lounge Kittens.
REO Speedwagon has sold 40 million albums around the globe, with the group's landmark album, 'Hi Infidelity', now approaching ten times platinum status in the states. After nearly five decades since forming, front man Kevin Cronin and band mates Bruce Hall (bass), Neal Doughty (keyboards), Dave Amato (guitar) and Bryan Hitt (drums) are still electrifying audiences worldwide with concerts featuring their two US number one singles Keep on Loving You and Can't Fight This Feeling, along with hits including, Take It on the Run, Time for Me to Fly, Don't Let Him Go, and more.