Gaucho
About
Gaucho at The O2 offers a luxurious escape for all arena guests amidst the electric atmosphere, especially for those looking to enjoy a leisurely pre-show lunch or celebrate any kind of special occasion. From the sunken cocktail bar to the mind-blowing balcony dining lounge, and the private VIP suite inside the arena itself, they have an array of show-stopping spaces to make every occasion utterly unique.
For more information: https://www.gauchorestaurants.com
Menus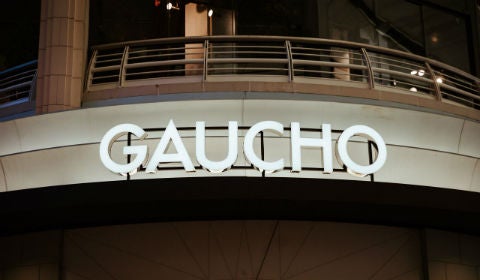 booking
Advance booking and private room hire are available. Event night booking is available. We take group bookings of up to 24.
We also offer a wine tasting experience in the wineroom with our sommelier.
PRIVATE DINING ROOM
VIP Suite: 24 seated for dinner & a show
Balcony: 60 seated
Top Floor: 100 seated/ 150 standing
Contact: [email protected]
allergies
We can cater for coeliacs (wheat allergy), nut allergies, lactose intolerance and fish allergies. Please let us know about any allergies before ordering.
dietary
We can cater for vegetarians and vegans. Please let us know about any dietary needs before ordering.
accessibility
There are disabled toilets. Seeing eye and hearing dogs are allowed.
family
High-chairs are available and we can cater for children's parties.
Offers
Beef & Bottle:
Enjoy the finest bottomless feed and wine in various restaurants across our collection. Choose from a weekly changing menu of brilliant steak cuts, a selection of our favourite free flowing wine (red, white and rose), as well as unlimited chips and chimichurri sauce.
Bottomless Champagne:
During the summer, our restaurants are serving bottomless Pommery Champagne for £50 per person. Perfect for some sunny afternoon terrace sipping, please simply ask your server when dining or request at the time of your booking.
The offering is only available for a maximum of 90 minutes from the reservation/seating time.
Similar restaurants
Restaurant / Mixed Cuisine
The Avenue
Restaurant / Mixed Cuisine
Inside The O2 arena
Restaurant / Mixed Cuisine
The Avenue