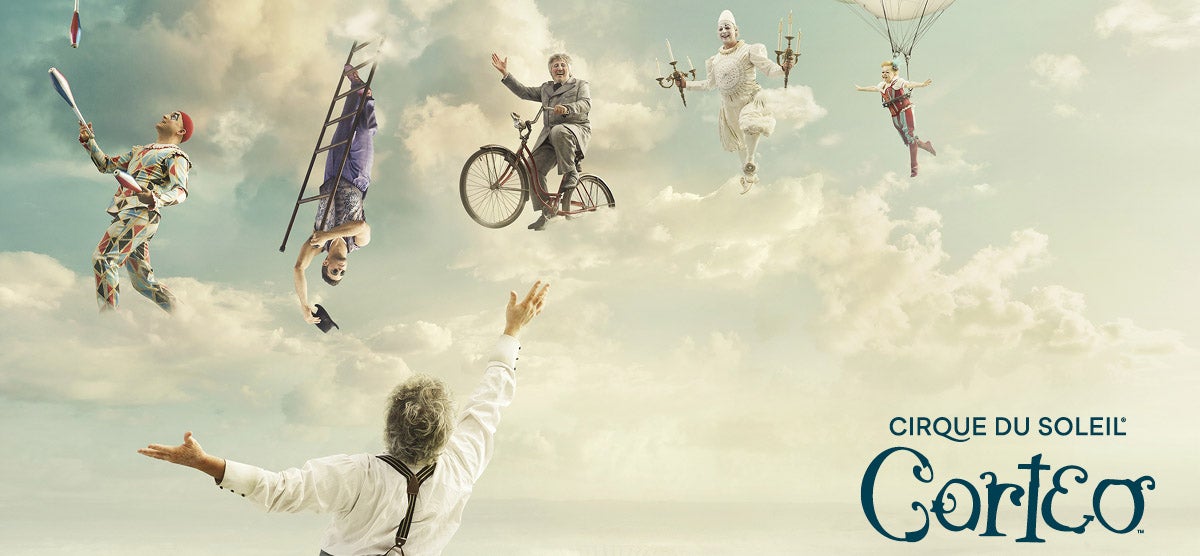 Cirque du Soleil
CORTEO
You will be directed to AXS.com to purchase your tickets. AXS is the official ticketing partner of The O2.
Cirque du Soleil, together with The O2, have agreed to postpone the Cirque du Soleil - Corteo events on Wednesday 24th June - Sunday 5th July 2020, as The O2 arena has announced it will be used as a temporary NHS training facility to prepare staff who will go on to work at the NHS Nightingale field hospital. The rescheduled events will be Wednesday 30th June – Sunday 11th July
All rescheduled dates are as follows:
| | | |
| --- | --- | --- |
| Previous shows | | Rescheduled date |
| Wed 24th June 2020 at 8pm | > | Wed 30th Jun 2021 |
| Thu 25th June 2020 at 8pm | > | Thu 1st Jul 2021 |
| Fri 26th June 2020 at 8pm | > | Fri 2nd Jul 2021 |
| Sat 27th June 2020 at 4pm & 8pm | > | Sat 3rd Jul 2021 |
| Sun 28th June 2020 at 1pm | > | Sun 4th Jul 2021 |
| Tues 30th June 2020 at 8pm | > | Tue 6th Jul 2021 |
| Wed 1st Jul 2020 at 8pm | > | Wed 7th Jul 2021 |
| Thu 2nd July 2020 at 8pm | > | Thu 8th Jul 2021 |
| Fri 3rd July 2020 at 8pm | > | Fri 9th Jul 2021 |
| Sat 4th July 2020 at 4pm & 8pm | > | Sat 10th Jul 2021 |
| Sun 5th July 2020 at 1pm | > | Sun 11th Jul 2021 |
---
Corteo, the most enchanting of Cirque du Soleil's arena productions is set to charm UK audiences for the very first time. A welcome addition to Cirque du Soleil's 30th anniversary in the UK, the show will visit The O2 from Wednesday 24 June to Sunday 5 July 2020.
This unique production, directed by Daniele Finzi Pasca, first premiered in Montreal under the Big Top in April 2005. Since then and including its transformation into an arena show in 2018, the show has amazed audiences of over 9 million people, in 20 countries, on 4 continents.
Corteo, which means cortege in Italian, is a joyous procession, a festive parade imagined by a clown. The show brings together the passion of the actor with the grace and power of the acrobat to plunge the audience into a theatrical world of fun, comedy and spontaneity situated in a mysterious space between heaven and earth.
The clown pictures his own funeral taking place in a carnival atmosphere, watched over by quietly caring angels. Juxtaposing the large with the small, the ridiculous with the tragic and the magic of perfection with the charm of imperfection, the show highlights the strength and fragility of the clown, as well as his wisdom and kindness, to illustrate the portion of humanity that is within each of us. The music turns lyrical and playful carrying Corteo through a timeless celebration in which illusion teases reality.
The concept and unique disposition of the stage bring the audience in a theatrical atmosphere like never seen before in Cirque du Soleil arena shows. The set curtains, inspired by the Eiffel Tower, and the central curtains, which were hand painted, give a grandiose feel to the stage. This sets the tone for the poetry of Corteo.
Important Information - How to download your tickets on The O2 app
For this show, if you've purchased your tickets from theo2.co.uk or AXS.com you'll need to display your ticket on your phone via The O2 app. Ticket purchasers will receive an email with news and information on AXS Mobile ID tickets and how you can download your tickets to your phone.
If you've bought your tickets for this show via AXS then you can re-sell your tickets with AXS Official Resale which gives you a safe, simple, and fair way to buy and sell tickets.
For more information on re-selling tickets from AXS and other ticket agents click here.
Please note: If you purchase resale tickets for this show through any website other than via theo2.co.uk or axs.com, your tickets may not be valid and access to the venue could be refused.
Keeping you safe at events
To help everyone attending an event at The O2 to stay safe we've made some changes to how we operate. Find out more about our enhanced health and safety measures.
You will be directed to AXS.com to purchase your tickets. AXS is the official ticketing partner of The O2.
Important Information
Security
Coming to the show? Don't miss a moment. Head down early. Enhanced security is in place. Pack light, we only allow small bags into the arena.
Tickets
Please only purchase tickets through authorised ticketing sites such as www.axs.com. If you have, or suspect you may have been a victim of fraud when purchasing tickets, please report it to Action Fraud www.actionfraud.police.uk.
Taking care of your ticket
Your ticket's barcode is unique. Don't share the barcode of your ticket with anyone, especially online, as it may be used to sell your ticket on without your knowledge.
Help Desk
If you have already used our on-line help desk - and still need to get in touch? Drop us an email at http://www.theo2.co.uk/email and someone will get back to you as soon as possible.