Event
timings
Coming to the show? Don't miss a moment. Head down early. Enhanced security is in place. Pack light, we only allow small bags into the arena.
Close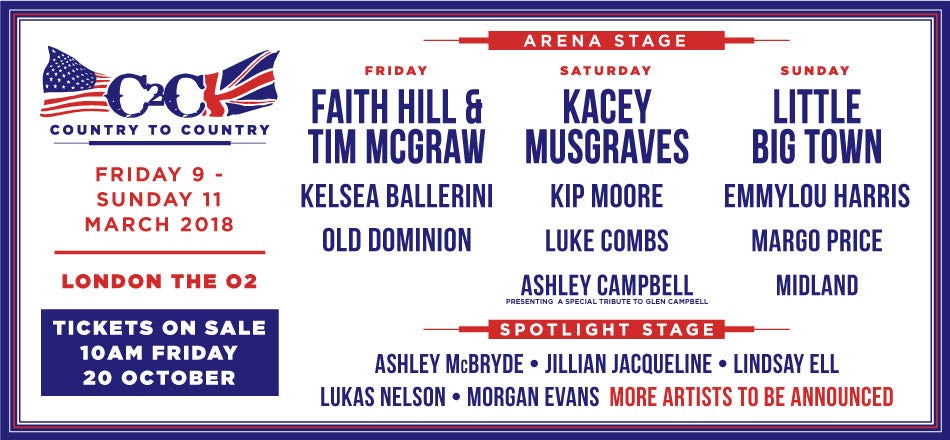 C2C Festival
C2C 2018 Update
The day splits for C2C have now been announced alongside news that Morgan Evans and Ashley Campbell are confirmed to play the festival in London on 9 - 11th March 2018. Ashley will be performing and paying tribute to her father, the late Glen Campbell. See the full day splits here.
Grammy© award-winning superstars Faith Hill and Tim McGraw have been announced as the first headliners for Country to Country 2018 and will be bringing their highly acclaimed and record setting Soul2Soul tour to this year's event.
Faith Hill and Tim McGraw have been dominating the music charts since the early '90s. They began touring together in 1996 on McGraw's Spontaneous Combustion tour. In 2000 they created the Soul2Soul franchise with their record-breaking "Soul2Soul" tour, becoming that year's top grossing and most successful U.S. tour. Their success continued in 2006-2007 when "Soul2Soul II" returned to the road, which was the most attended tour of the year in any musical genre and remains the highest grossing multi-year North American tour in country music history.
Faith Hill is one of the top-selling and most-awarded female artists of all time with 5 Grammy Awards, 12 Academy of Country Music Awards, 3 Country Music Association Awards, 4 Billboard Music Awards, 4 American Music Awards and 4 People's Choice Awards. She has consistently broken chart records with her #1 singles and has had major crossover success with the hits "This Kiss," "Breathe," "The Way You Love Me," "Cry" and "There You'll Be." She has had multiple albums top both the Billboard Top 100 and Country charts simultaneously and with only seven original studio albums, has sold more than 30 million albums worldwide.
Tim McGraw who headlined the very first Country to Country festival in 2013, has sold more than 50 million records and dominated the charts with 43 worldwide #1 singles. He's won 3 Grammy Awards, 16 Academy of Country Music Awards, 14 Country Music Association Awards, 11 American Music Awards, 3 People's Choice Awards and numerous other honors. His iconic career achievements include being named the BDS Radio's Most Played Artist of the Decade for all music genres and having the Most Played Song of the Decade for all music genres. He is the most played country artist since his debut in 1992, with two singles spending over 10 weeks at #1.
Faith Hill and Tim McGraw will be joined by one of the USA's brightest stars Kelsea Ballerini, plus a whole host of multi-platinum and acclaimed artists across the weekend.
C2C returns for the 6th year in March 2018 and is now Europe's biggest country music festival. It brings three days of the best country music and programming with performances from the world's best country stars as well as emerging talent from Nashville, UK and Europe.
For all the information and details on C2C 2018 head to www.c2c-countrytocountry.com.
Important Information
Security
Coming to the show? Don't miss a moment. Head down early. Enhanced security is in place. Pack light, we only allow small bags into the arena.
Road Works
Please be aware that there are road works taking place on Millennium Way affecting the route into Car Park 1. A short diversion is in place and Car Park 1 will be open as normal throughout the works. Please allow extra time when travelling to or from The O2 by road.
Tickets
Please only purchase tickets through authorised ticketing sites including www.axs.com and www.stubhub.co.uk - The Official Ticket Resale Marketplace of The O2. If you have, or suspect you may have been a victim of fraud when purchasing tickets, please report it to Action Fraud www.actionfraud.police.uk.
Taking care of your ticket
Your ticket's barcode is unique. Don't share the barcode of your ticket with anyone, especially online, as it may be used to sell your ticket on without your knowledge.
Help Desk
If you have already used our on-line help desk - and still need to get in touch? We can be contacted on 0208 463 2000 or click on the Help button at the bottom right of the screen. We're here to help Monday – Friday 9-7pm and 10-6pm at weekends.