Home

•

Andrea Morricone Conducts Ennio Morricone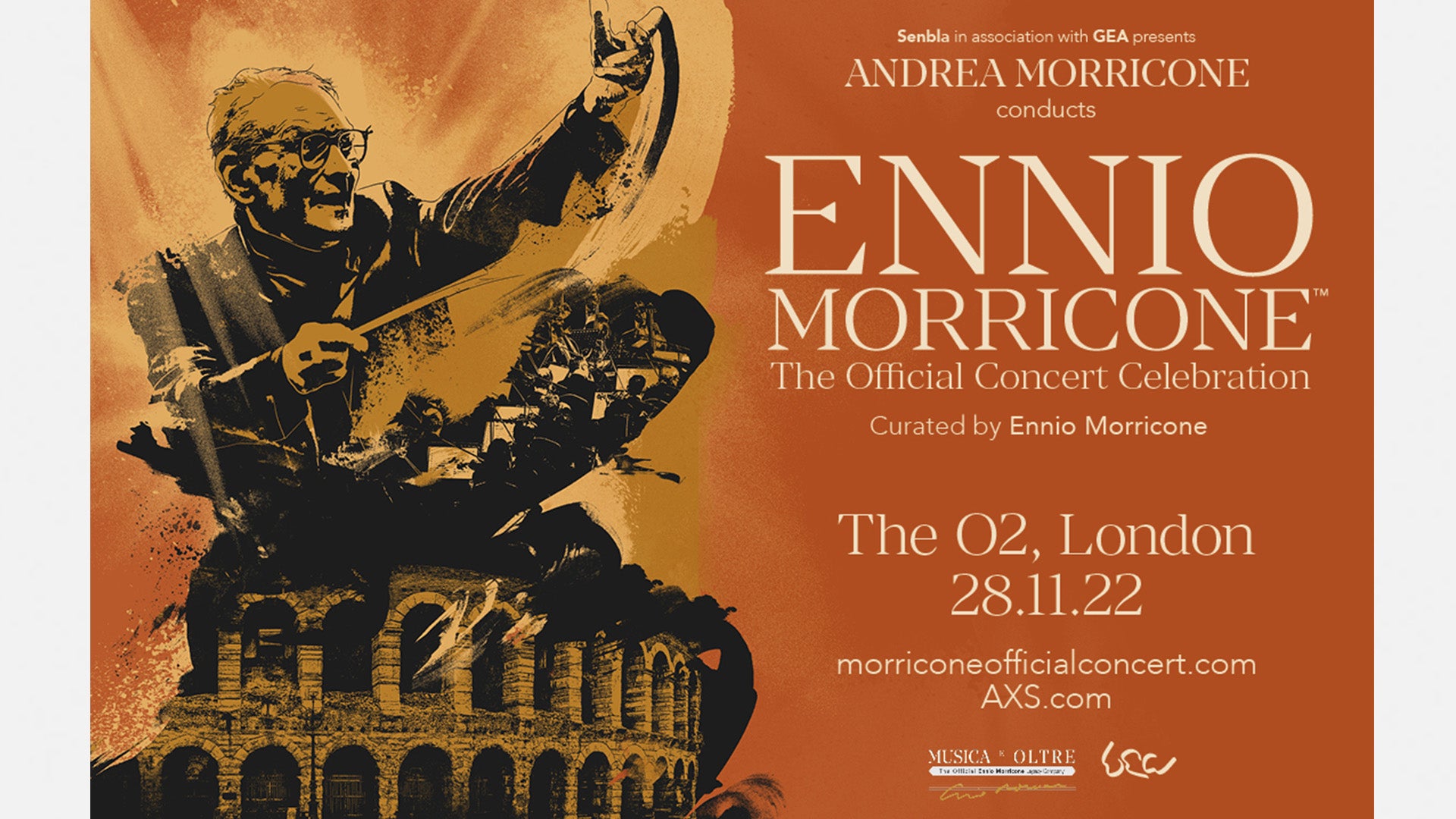 Andrea Morricone Conducts Ennio Morricone
The Official Concert Celebration
Andrea Morricone Conducts Ennio Morricone
The Official Concert Celebration
You will be directed to AXS.com to purchase your tickets. AXS is the official ticketing partner of The O2.
On the late Maestro's Birthday, the time has come to celebrate the world's greatest film composer with a new concert experience at The O2 on Monday 28 November 2022.
Directly following his retirement from the stage in 2019, Ennio Morricone began working on a concert production that was to succeed him. By mid-2020, the Maestro had finished curating the blueprint for a new production.
The production will include iconic scenes from the greatest classic films, effect lighting and with the Maestro's long-time soloists to be featured on stage alongside a symphony orchestra and choir, under the baton of his son Andrea Morricone. On July 6th 2020, Ennio Morricone passed at age 91.
The show, will be a unique, large scale arena production, curated by Ennio Morricone and conducted by his son, Andrea Morricone. The program will include iconic film scenes and never before seen footage of the Maestro and some of his illustrious collaborators. The programme will also pay homage to the Maestro, with never before seen footage of the legend at work, including interview outtakes.
Ennio Morricone has composed over 500 scores for cinema and television as well as over 100 absolute music works. Highlights, which will also be included in the new program, are his scores for Cinema Paradiso, Once Upon a time in America, The Good, The Bad and The Ugly, The Untouchables and The Mission.
Between 2014 and 2019 he performed 111 concerts in Europe alone for audiences totalling more than 800,000 spectators, resulting in a combined box office gross exceeding 80 million euro.
Discussing the new show, Andrea Morricone said: "This is bound to be a bittersweet experience: I of course miss my father greatly, but to be able honor him by conducting a full symphony orchestra and choir playing his phenomenal music will be a great and deeply emotional experience and I hugely look forward to celebrating him with his fans around the world."
Floris Douwes, producer for GEALive adds: "It was a life-defining experience to be touring with Ennio for nearly 7 years and a blessing that we were able to create this new production with him by life in the knowledge that we would be staging a concert that had his full blessings. Fans so often asked for a concert with film clips. We will now honor that request in a way that is respectful of the Maestro's artistic legacy."
Maestro Andrea Morricone will personally conduct the concerts. The concert in London will be performed by the Philharmonic Orchestra Flanders, accompanied by a choir of over 50 singers.
...music is intangible, it has no form, it is like a dream: it only exists if it is performed, taking shape in the mind of the listener.
- Ennio Morricone
Important Information - How to download your tickets on The O2 app
For this show, if you've purchased your tickets from theo2.co.uk or AXS.com you'll need to display your ticket on your phone via The O2 app. Ticket purchasers will receive an email with news and information on AXS Mobile ID tickets and how you can download your tickets to your phone.
If you've bought your tickets for this show via AXS then you can re-sell your tickets with AXS Official Resale which gives you a safe, simple, and fair way to buy and sell tickets.
For more information on re-selling tickets from AXS and other ticket agents click here.
Please note: If you purchase resale tickets for this show through any website other than via theo2.co.uk or axs.com, your tickets may not be valid and access to the venue could be refused.
Keeping you safe at events
To help everyone attending an event at The O2 to stay safe we've made some changes to how we operate. Find out more about our enhanced health and safety measures.
Sign up for updates and pre-sales
You will be directed to AXS.com to purchase your tickets. AXS is the official ticketing partner of The O2.
Important Information
Security
Coming to the show? Don't miss a moment. Head down early. Enhanced security is in place. Pack light, we only allow small bags into the arena.
Tickets
Please only purchase tickets through authorised ticketing sites such as www.axs.com. If you have, or suspect you may have been a victim of fraud when purchasing tickets, please report it to Action Fraud www.actionfraud.police.uk.
Taking care of your ticket
Your ticket's barcode is unique. Don't share the barcode of your ticket with anyone, especially online, as it may be used to sell your ticket on without your knowledge.
Help Desk
If you have already used our on-line help desk - and still need to get in touch? Drop us an email at http://www.theo2.co.uk/email and someone will get back to you as soon as possible.