Home •
Hollywood Vampires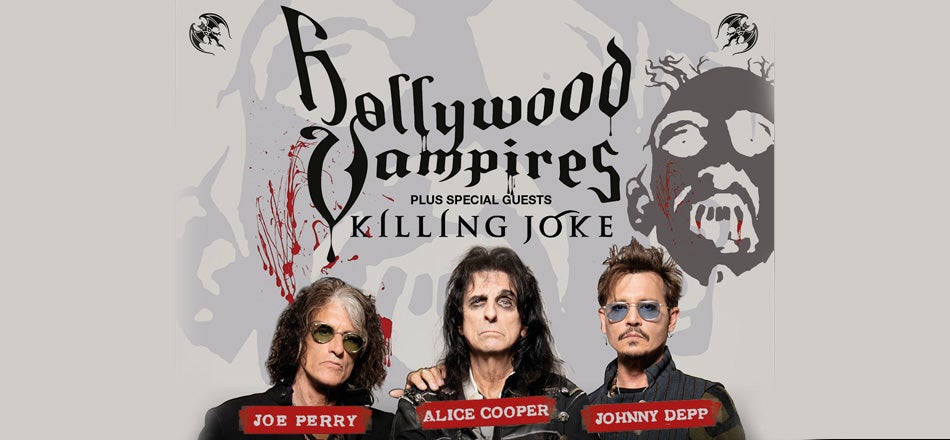 Hollywood Vampires
Rescheduled - With special guests Killing Joke
Hollywood Vampires
Rescheduled - With special guests Killing Joke
You will be directed to AXS.com to purchase your tickets. AXS is the official ticketing partner of The O2.
American rock supergroup Hollywood Vampires have rearranged their 2020 UK tour for August 2021, playing The O2 on Monday 9th August 2021.
The new dates come as a result of the ongoing situation around COVID-19 but the band are determined to bring their exhilarating show back to the UK fans as soon as possible.
And they can announce that they will now be joined by legendary London post punk, goth and metal pioneers - Killing Joke.
The American rock supergroup, featuring Rock and roll royalty Joe Perry, Hollywood superstar Johnny Depp and shock rock icon Alice Cooper, are to tour in support of their critically acclaimed new studio album "Rise".
Taking in Leeds, Glasgow, London and Birmingham, they will be tearing up a venue near you in September next year. The three legends first came together to record in 2015, bonding over a shared love of their favourite songs and a desire to celebrate their 'dead, drunk friends' by playing the songs of the fallen heroes. Riotous performances ensued around the world.
Alice Cooper, "This show has something for everyone. I like to joke that The Vampires are the world's most expensive bar band, but what a lot of people don't realise is that this is a real rock band, not just some novelty. I wouldn't keep doing it if it weren't such a great band. Everybody gets along, the musical chemistry is as good as it gets and the show will be the highest energy hard rock shows you will see all year. I never get tired of playing with these guys!"
Joe Perry, "I'm looking forward to be getting back on the road with the guys in the Vampires this summer. It's going to be great to get to play a bunch of tunes from our new album as well as a few from our dead, drunk friends. The last tour we were firing on all cylinders and it's because of the great support from our fans that we really push the pedal to the floor. You can expect much of the same in September. We can't wait to get over and prove it."
Earlier this year, Hollywood Vampires completed a triumphant seven-city North American tour which included a sell-out show at the famous Greek Theatre in Los Angeles and were voted the "best performance" of 2018 at London's Wembley Arena.
An exclusive glimpse behind the scenes on the road can be found in the video taken from the recent album "I Want My Now".
The 16-track album "Rise," produced by Tommy Henriksen and the Hollywood Vampires, is one of the purest, most unapologetic and enjoyable rock and roll albums of the year, made by masters of the craft and true fans of the form. Unlike their 2015 debut record, the new album consists mainly of original material, written by the band. There are however, in the spirit of the Vampires' original mission, three covers of songs originally written and recorded by legendary rockers who died far too young. "Rise" has been released on earMUSIC this June.
Important Information - How to download your tickets on The O2 app
For this show, if you've purchased your tickets from theo2.co.uk or AXS.com you'll need to display your ticket on your phone via The O2 app. Ticket purchasers will receive an email with news and information on AXS Mobile ID tickets and how you can download your tickets to your phone.
If you've bought your tickets for this show via AXS then you can re-sell your tickets with AXS Official Resale which gives you a safe, simple, and fair way to buy and sell tickets.
For more information on re-selling tickets from AXS and other ticket agents click here.
Please note: If you purchase resale tickets for this show through any website other than via theo2.co.uk or axs.com, your tickets may not be valid and access to the venue could be refused.
Keeping you safe at events
To help everyone attending an event at The O2 to stay safe we've made some changes to how we operate. Find out more about our enhanced health and safety measures.
You will be directed to AXS.com to purchase your tickets. AXS is the official ticketing partner of The O2.
Important Information
Security
Coming to the show? Don't miss a moment. Head down early. Enhanced security is in place. Pack light, we only allow small bags into the arena.
Tickets
Please only purchase tickets through authorised ticketing sites such as www.axs.com. If you have, or suspect you may have been a victim of fraud when purchasing tickets, please report it to Action Fraud www.actionfraud.police.uk.
Taking care of your ticket
Your ticket's barcode is unique. Don't share the barcode of your ticket with anyone, especially online, as it may be used to sell your ticket on without your knowledge.
Help Desk
If you have already used our on-line help desk - and still need to get in touch? Drop us an email at http://www.theo2.co.uk/email and someone will get back to you as soon as possible.