Home

•

L.O.L. Surprise! LIVE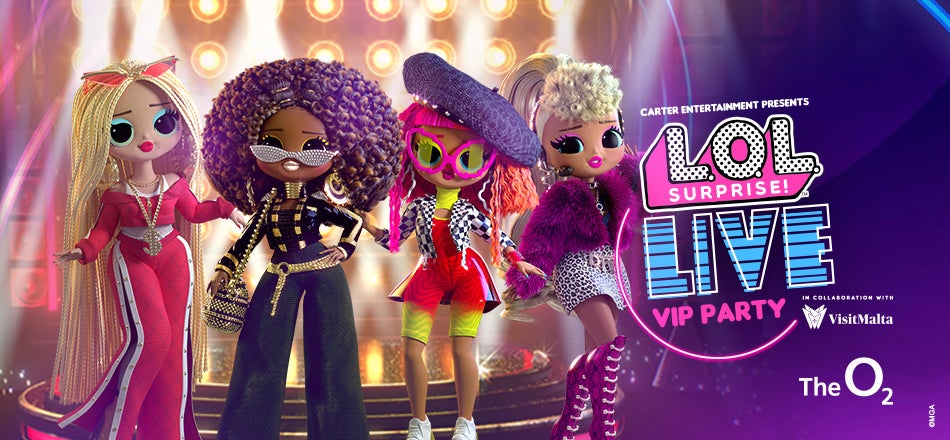 L.O.L. Surprise! LIVE
VIP Party in collaboration with VisitMalta
L.O.L. Surprise! LIVE
VIP Party in collaboration with VisitMalta
You will be directed to AXS.com to purchase your tickets. AXS is the official ticketing partner of The O2.
Doors Open

Mornings: 10am / Matinees: 1.30pm / Evenings: 5pm
L.O.L. Surprise! LIVE VIP Party in collaboration with VisitMalta will be coming to The O2 from 15 to 17 February 2022 for the first time ever.
This widely anticipated and innovative production, is inviting fans to stand out from the crowd and get runway ready with their favourite dolls. Featuring outrageous choreography, elaborate sets, flawless costumes and brand-new music, the show will be a concert come dance party for the whole family to enjoy. It's also set to be the first ever family show in the UK to use holograms…or should we say holoGLAMS, alongside other real-life singing & dancing L.O.L. Surprise! Dolls.
---
The show follows Mallory as she gets ready for the L.O.L. Surprise! LIVE VIP Party but doesn't know what to wear – a predicament most of us have found ourselves in at one time or another! However, the L.O.L. Surprise! Dolls are there to help her realise – through show stopping numbers that will have families on their feet and dancing - that B.B.s don't fit into just one box and all that matters is being you and having fun.
Along the way Mallory and the dolls are joined by many of their friends you'll know all too well, as well as dancing, singing life size holograms of L.O.L. Surprise! Remix O.M.G. Fashion Dolls! Kitty K, Lonestar, Pop B.B. and Honeylicious, leaving the audience thrilled from start of finish. You'll be invited to Get Up and Dance and sing along to L.O.L.'s newest hits with your fashionable BFFs and all their fellow B.B.s in this concert style ride made for the entire family!
Important Information - How to download your tickets on The O2 app
For this show, if you've purchased your tickets from theo2.co.uk or AXS.com you'll need to display your ticket on your phone via The O2 app. Ticket purchasers will receive an email with news and information on AXS Mobile ID tickets and how you can download your tickets to your phone.
If you've bought your tickets for this show via AXS then you can re-sell your tickets with AXS Official Resale which gives you a safe, simple, and fair way to buy and sell tickets.
For more information on re-selling tickets from AXS and other ticket agents click here.
Please note: If you purchase resale tickets for this show through any website other than via theo2.co.uk or axs.com, your tickets may not be valid and access to the venue could be refused.
Keeping you safe at events
To help everyone attending an event at The O2 to stay safe we've made some changes to how we operate. Find out more about our enhanced health and safety measures.
You will be directed to AXS.com to purchase your tickets. AXS is the official ticketing partner of The O2.
Doors Open

Mornings: 10am / Matinees: 1.30pm / Evenings: 5pm
Important Information
Security
Coming to the show? Don't miss a moment. Head down early. Enhanced security is in place. Pack light, we only allow small bags into the arena.
Tickets
Please only purchase tickets through authorised ticketing sites such as www.axs.com. If you have, or suspect you may have been a victim of fraud when purchasing tickets, please report it to Action Fraud www.actionfraud.police.uk.
Taking care of your ticket
Your ticket's barcode is unique. Don't share the barcode of your ticket with anyone, especially online, as it may be used to sell your ticket on without your knowledge.
Help Desk
If you have already used our on-line help desk - and still need to get in touch? Drop us an email at http://www.theo2.co.uk/email and someone will get back to you as soon as possible.