close
Doors:18:30// MAYDAY: 20:00 (all timings approx and subject to change)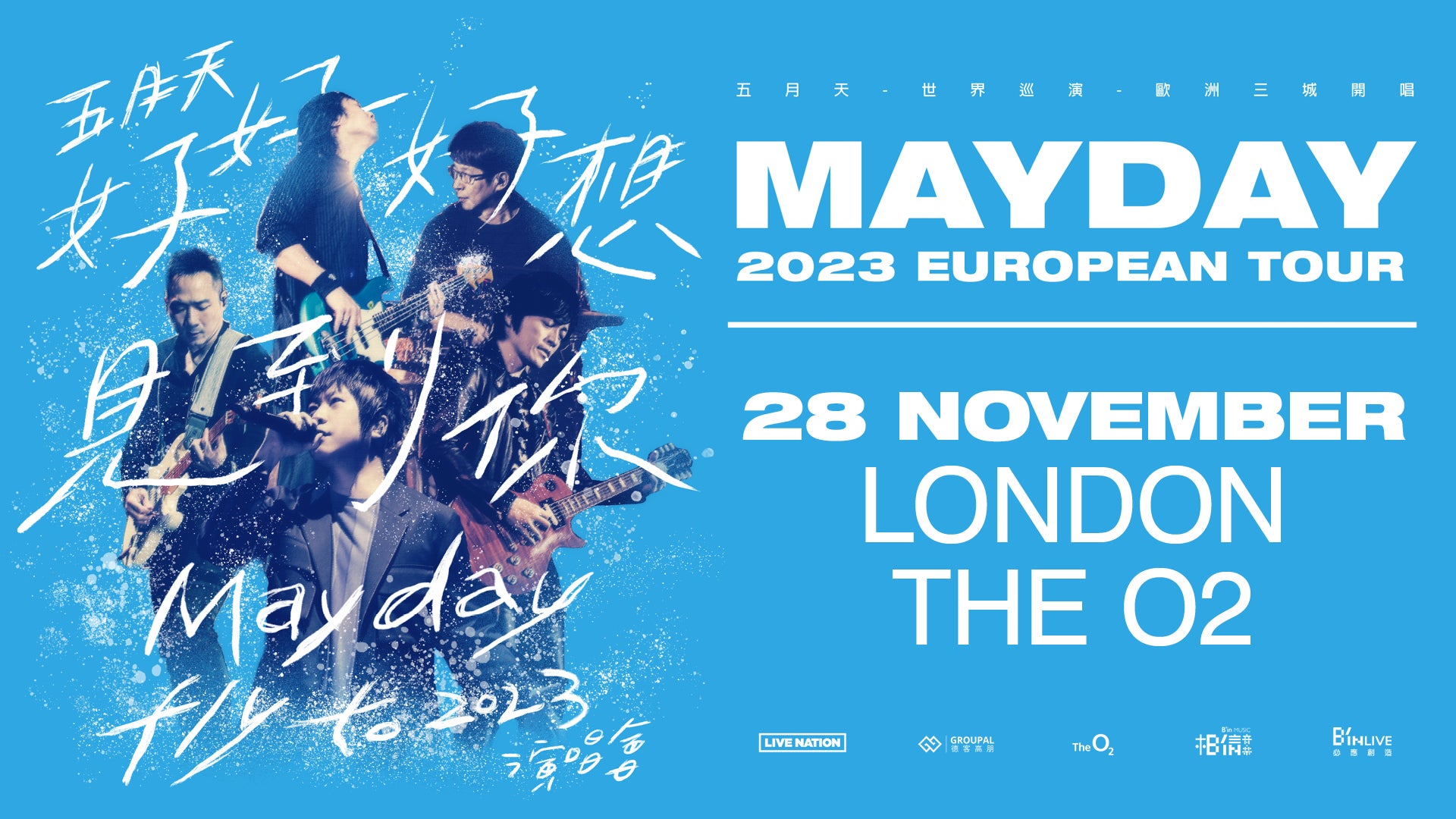 MAYDAY
[FLY TO 2023] EUROPEAN TOUR
MAYDAY
[FLY TO 2023] EUROPEAN TOUR
Date

28

Nov

2023

Venue

The O2 arena

Availability

On sale now
You will be directed to AXS.com to purchase your tickets. AXS is the official ticketing partner of The O2.
Event Details
Mayday, the legendary Asian rock band, have announced that they will be bringing "MAYDAY [ FLY TO 2023 ] TOUR" to The O2 on Tuesday 28 November 2023.
Mayday's "MAYDAY [ FLY TO 2023 ] TOUR" has already left an indelible mark, garnering unprecedented attention with its ground-breaking online concert production. Filmed in real-time with extended reality technology, the concert combined air, land, and sea crews for a truly immersive experience. The premiere drew an astounding 40 million viewers and ignited over 1 billion discussions across the digital landscape. As Mayday takes the stage at The O2, fans are invited to join the exhilarating journey and be a part of history in the making.
With an illustrious career spanning over 25 years, Mayday has been called The Beatles of the Chinese-speaking World. Hailing from Asia, the band has sold a staggering 10 million albums and rocked over 1,200 live stadium concerts across the world, leaving an indelible mark on audiences in Asia, the United States, Europe, and Australia.
The award-winning Mayday was formed with five members who have great musical creativity: Vocalist Ashin, guitarist Monster and Stone, bassist Masa, and drummer Ming.
Mayday has released 9 studio albums, and has toured globally and their last international tour featured six sold-out shows in Hong Kong, with stops in Asia and the United States.
Mayday's accolades are a testament to their unmatched talent. With over 150 music awards from around the globe, including the MTV Video Music Awards Japan and multiple Golden Melody Awards, their prowess in song writing, production, and performance knows no bounds. From conquering the Bird's Nest in Beijing to the historic Madison Square Garden in New York, Mayday has been breaking ground with their incredible live performances at iconic venues across the globe.
Important Information - How to download your tickets on The O2 app
For this show, if you've purchased your tickets from theo2.co.uk or AXS.com you'll need to display your ticket on your phone via The O2 app. Ticket purchasers will receive an email with news and information on AXS Mobile ID tickets and how you can download your tickets to your phone.
If you've bought your tickets for this show via AXS then you can re-sell your tickets with AXS Official Resale which gives you a safe, simple, and fair way to buy and sell tickets.
For more information on re-selling tickets from AXS and other ticket agents click here.
Please note: If you purchase resale tickets for this show through any website other than via theo2.co.uk or axs.com, your tickets may not be valid and access to the venue could be refused.
Sign up for updates and pre-sales
Date

28

Nov

2023

Venue

The O2 arena

Availability

On sale now
You will be directed to AXS.com to purchase your tickets. AXS is the official ticketing partner of The O2.