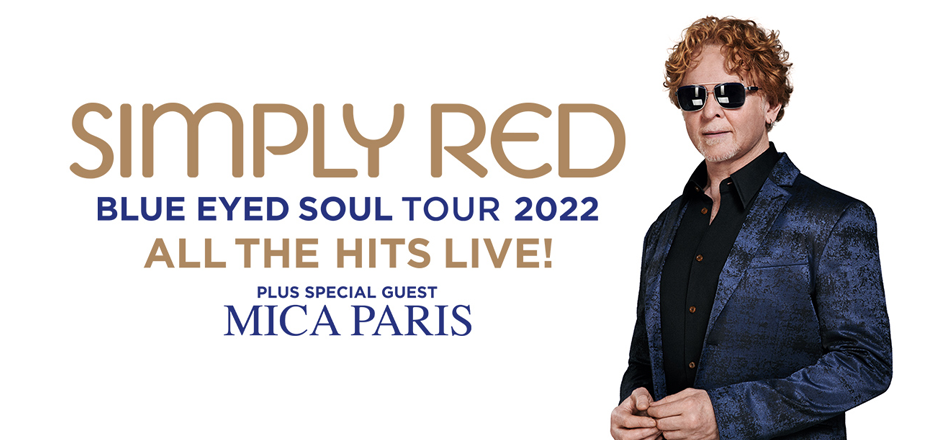 Simply Red
With special guest Mica Paris
Simply Red
With special guest Mica Paris
You will be directed to AXS.com to purchase your tickets. AXS is the official ticketing partner of The O2.
Due to the ongoing uncertainty surrounding the easing of Covid-19 restrictions for live events in the UK, the Simply Red UK tour dates are being moved to February 2022.
Whilst we are all saddened and frustrated to be bringing you the news that the shows will no longer take place in 2021, we really can't wait to see you all there just a few months later for a huge celebration!
All tickets purchased will remain valid for the new dates and your ticket agent will be in direct contact shortly.
Tickets for Saturday 23rd October 2021 shall now be valid for Saturday 19th February 2022
Tickets for Sunday 24th October 2021 shall now be valid for Sunday 20th February 2022
---
Special guest Mica Paris will be joining the band in support.
Hailed as one of the most successful live acts ever to come out of the UK, Simply Red will be firing on all cylinders delivering their all-time classic hits from a stellar career, such as 'Stars', 'Holding Back The Years', 'Fairground' and 'Money's Too Tight To Mention', as well as some raw and soulful new grooves.
Mick Hucknall has been Simply Red's songwriter and bandleader since the very beginning in 1985, aided by long-serving saxophonist Ian Kirkham since 1986. The current line-up has remained consistent since 2003, and the new tour will play to the core strengths of this fantastic band. "I want them to enjoy playing, for crowds to get up and move around, and everybody to put their heart into it. It's all about capturing the groove", says Hucknall.
'Blue Eyed Soul' was recorded as live with few overdubs at British Grove Studios in London. All ten tracks, including the sensational new single 'Thinking Of You', were written by Mick Hucknall and produced by long-time collaborator Andy Wright. Musical reference points draw on classic funk and soul: Wilson Pickett, Dyke and the Blazers, James Brown, and the roaring horns of Tower of Power. "I'm looking forward to playing it live because it's real", says Hucknall of the upcoming record, "I want to have a good time".
Important Information - How to download your tickets on The O2 app
For this show, if you've purchased your tickets from theo2.co.uk or AXS.com you'll need to display your ticket on your phone via The O2 app. Ticket purchasers will receive an email with news and information on AXS Mobile ID tickets and how you can download your tickets to your phone.
If you've bought your tickets for this show via AXS then you can re-sell your tickets with AXS Official Resale which gives you a safe, simple, and fair way to buy and sell tickets.
For more information on re-selling tickets from AXS and other ticket agents click here.
Please note: If you purchase resale tickets for this show through any website other than via theo2.co.uk or axs.com, your tickets may not be valid and access to the venue could be refused.
Keeping you safe at events
To help everyone attending an event at The O2 to stay safe we've made some changes to how we operate. Find out more about our enhanced health and safety measures.
You will be directed to AXS.com to purchase your tickets. AXS is the official ticketing partner of The O2.
Important Information
Security
Coming to the show? Don't miss a moment. Head down early. Enhanced security is in place. Pack light, we only allow small bags into the arena.
Tickets
Please only purchase tickets through authorised ticketing sites such as www.axs.com. If you have, or suspect you may have been a victim of fraud when purchasing tickets, please report it to Action Fraud www.actionfraud.police.uk.
Taking care of your ticket
Your ticket's barcode is unique. Don't share the barcode of your ticket with anyone, especially online, as it may be used to sell your ticket on without your knowledge.
Help Desk
If you have already used our on-line help desk - and still need to get in touch? Drop us an email at http://www.theo2.co.uk/email and someone will get back to you as soon as possible.