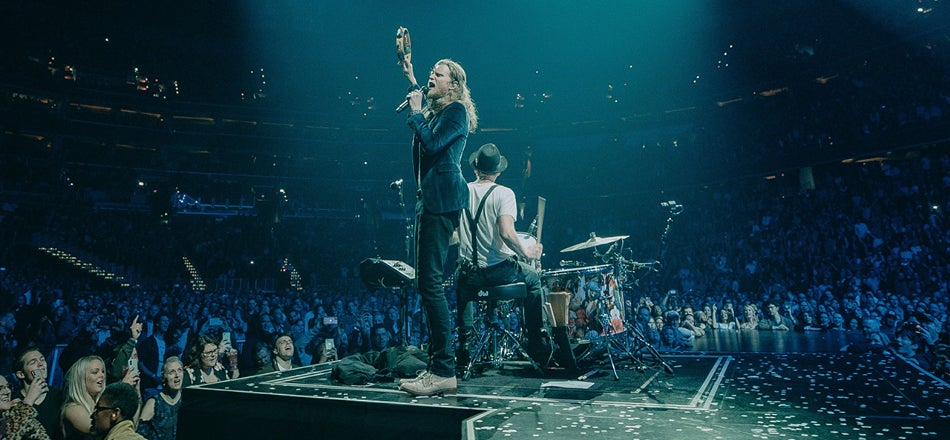 The Lumineers
Plus special guests
The Lumineers
Plus special guests
You will be directed to AXS.com to purchase your tickets. AXS is the official ticketing partner of The O2.
The Lumineers have announced a new headline show at The O2 on Friday 4 March 2022. The band have also announced the release of a live EP recorded on the last night of their tour before pausing for lockdown, titled Live From The Last Night Of Tour.
As Jeremiah Fraites holds a euphoric beat, and Wesley Schultz's rich timbre fills a dark arena, the band are joined by a chorus of voices from thousands of carefree fans. The verve in the room is palpable, no one could predict that night, the epic impact the pandemic would wreak upon the world for the next year and some. The very next day the world paused and doors were closed as everyone retreated inside.
The tracklisting for the EP includes favourites Ophelia, My Cell, Donna and Gloria, along with the now unfamiliar, but heart-warming sounds of crowd appreciation and an audience joining in to sing. The vocals are mid-show raw, both poignant and joyous, the music up-tempo, yet pure low slung blues. A magical hybrid of Americana folk pop, created with accomplished composition and musical grit.
Live From The Last Night Of Tour is a perfect appetizer, before the band reset and fire up the juggernaut of buses, rigs & ticket sellers, to take the 2022 tour on the road, coming to The O2 on Friday 4 March. Almost two years after lockdown Wesley, Jeremiah and thousands of fans around the world will emerge, blinking into the spotlights for what is going to be one monumental reunion.
Ticket price includes a £1 donation to REVERB, a not for profit organisation tackling environmental issues in music. https://reverb.org/
Important Information - How to download your tickets on The O2 app
For this show, if you've purchased your tickets from theo2.co.uk or AXS.com you'll need to display your ticket on your phone via The O2 app. Ticket purchasers will receive an email with news and information on AXS Mobile ID tickets and how you can download your tickets to your phone.
If you've bought your tickets for this show via AXS then you can re-sell your tickets with AXS Official Resale which gives you a safe, simple, and fair way to buy and sell tickets.
For more information on re-selling tickets from AXS and other ticket agents click here.
Please note: If you purchase resale tickets for this show through any website other than via theo2.co.uk or axs.com, your tickets may not be valid and access to the venue could be refused.
Keeping you safe at events
To help everyone attending an event at The O2 to stay safe we've made some changes to how we operate. Find out more about our enhanced health and safety measures.
You will be directed to AXS.com to purchase your tickets. AXS is the official ticketing partner of The O2.
Important Information
Security
Coming to the show? Don't miss a moment. Head down early. Enhanced security is in place. Pack light, we only allow small bags into the arena.
Tickets
Please only purchase tickets through authorised ticketing sites such as www.axs.com. If you have, or suspect you may have been a victim of fraud when purchasing tickets, please report it to Action Fraud www.actionfraud.police.uk.
Taking care of your ticket
Your ticket's barcode is unique. Don't share the barcode of your ticket with anyone, especially online, as it may be used to sell your ticket on without your knowledge.
Help Desk
If you have already used our on-line help desk - and still need to get in touch? Drop us an email at http://www.theo2.co.uk/email and someone will get back to you as soon as possible.