Cabana
About
CABANA is an award-winning Brasilian Barbecue group, inspired by the best of modern Brasil. Large skewers of chicken, beef and pork are barbecued fresh to order on a custom-made grill, alongside vibrant cocktails and street food, whilst the vibrant, upcycled interiors recreate the heat of Brasil in the heart of the city.
For more information visit www.cabana-brasil.com.
Halal options available.
Menus
Opening Times
Non event night:
Mon – Sat, 12pm - 11pm
Sunday 12pm – 10pm
Open late on event nights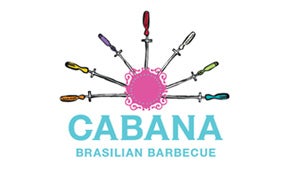 Find us on
Contact Details

0208 853 5468
booking
allergies
We are able to cater for allergies. Please alert a waiter and ask for an allergy file on arrival
dietary
We offer vegetarian, vegan and gluten free options – the symbols are on our dishes.
accessibility
The restaurant is wheel chair accessible and we also have a disabled loo
Gallery