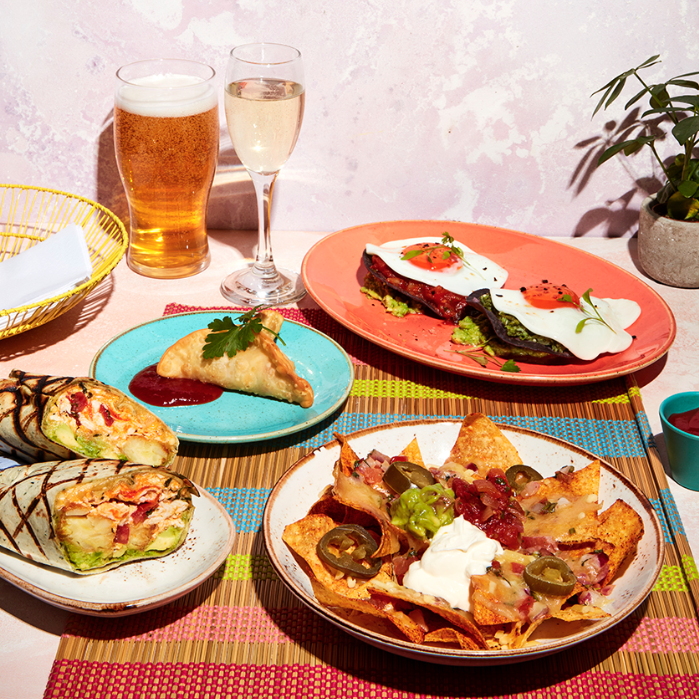 Las Iguanas
Hours of Operations
Monday – Thursday: 11:00 to 22:30
Friday and Saturday: Restaurant 11:00 to 23:00 / Bar 11:00 to 00:00
Sunday: 11:00 – 22:00
About
Las Iguanas at The O2 is home to fresh & authentic Latin American food & cocktails. Here you'll discover the finest Latin American dishes with unique flavour blends & inspiring recipes from Brazil, Mexico, Peru and beyond. The menu comes to life with quality, fresh ingredients, cooked with passion, love & lots of Latin magic.
The venue features a bustling bar bursting with Happy Hour cocktails served all day every day, salsa beats & an irresistible bolt of Latin American energy for a true taste of faraway shores. At the bar, you'll find the perfect spot for a little pre- or post-dinner indulgence where Las Iguanas Magnifica Cachaça is expertly served. Cachaça, a spirit distilled from sugar cane and known as the national drink of Brazil, features in a fabulous range of thirst-quenching Caipirinhas.
From fiery fajitas to classic Brazilian dishes served up in traditional pots, there's something for everyone, including gluten free, veggie and vegan menus and award-winning burgers. Las Iguanas is an excellent place to relish food with a tropical twist and enjoy time spent together with friends and family. Kids can discover a taste of South America on the Iggy & friends menu created by Aardman Animations, with a choice of delicious dishes from Wacky Tacos to Crazy Quesadillas and Chicken Crispies, while free organic baby food is also available - just ask your server.
Why not check out the Las Iguanas Bottomless Brunch? All info here.
High-chairs, children's menus, baby changing facilities and baby feeding facilities are available. We can also cater for children's parties. 
We can cater for vegetarians and vegans. We can also serve Halal food. Please let us know about any dietary needs before ordering. 
There are disabled toilets. Seeing eye and hearing dogs are allowed.
Advance booking is available. Event night booking is available until 3pm and from 8:30pm (subject to availability).
We can cater for coeliacs (wheat allergy), gluten allergies, nut allergies, lactose intolerance and fish allergies. Please let us know about any allergies before ordering. 
You Might Also Like
Restaurant / Latin Cuisine
Restaurant / Latin Cuisine