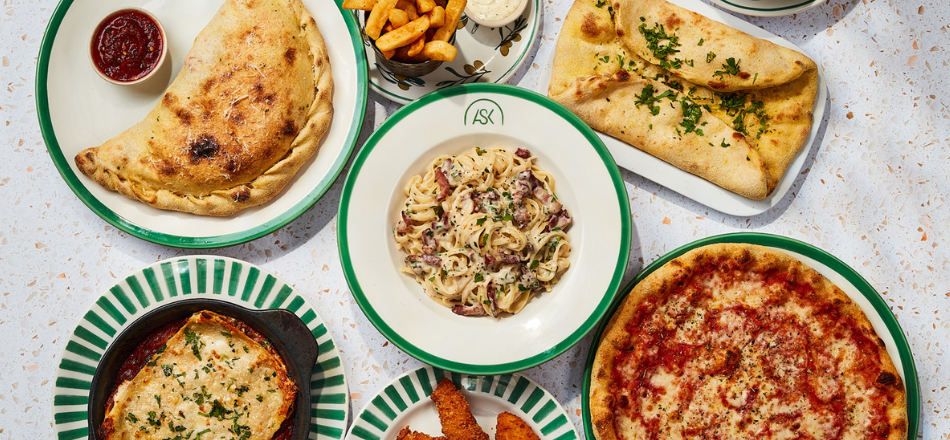 ASK Italian
Hours of Operations
11:30 - 22:00 Mon - Sat
11:30 - 21:00 Sunday
About
Celebrate life's great moments at your local ASK Italian at The O2. We take our inspiration from the Italian way of life, putting our heart and soul into the details. So, when you come to our restaurants, you can relax, unwind and be yourself.
Whether you're popping in for a preshow dinner or enjoying a post-shop drink – there's something for everyone. Our menu is as diverse as the people who come through our doors. From great Italian classics with added 'wow', to non-gluten pizzas and vegan swaps even the meat-eaters love.
We may be a large family of restaurants, but each ASK serves its own unique community. Your ASK Italian restaurant in the O2 features a bespoke mural by a local artist, celebrating and drawing on the beauty of Italy.
It's also a place you'll want to return to. Because like every big family, we're full of energy and passion. For food. For conversation. And for that unbeatable feeling of being around the table with people you love.
Follow them on Instagram for more updates and all the latest news.
High chairs, baby changing facilities and kids menus are available. 
We can cater for vegetarians. Please let us know you requirements before ordering.
Vegetarian or vegan? Your local ASK has you covered.  
Group bookings available. Please contact us directly.
We can cater for coeliacs (wheat allergy), nut allergy, lactose intolerance and fish allergies. Please let us know about any allergies before you order. 
You Might Also Like
Restaurant / Italian Cuisine
Restaurant / Italian Cuisine
Restaurant / Italian Cuisine