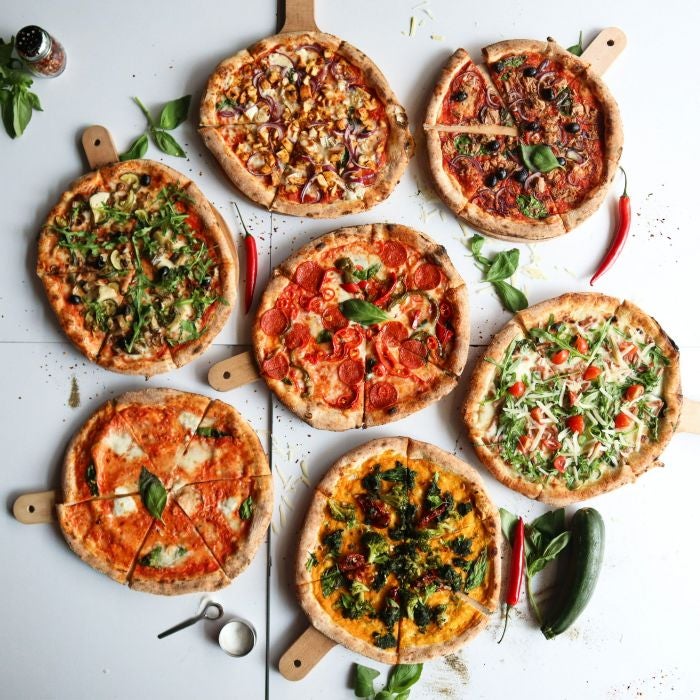 About
At Kitchen Pizzeria we are proud to take you back to the roots of handcrafted homemade Italian artisan pizzas.
Each of our handcrafted pizzas is hand made from scratch using the best, freshest Italian dough as are our bruschetta, focaccia, calzone and panini. Each one bringing you the mouth-watering flavours of Italy as all our Italian produce is individually sourced so you can taste the sun, soil, spirit and soul of Italy using our fresh ingredients from the field, to the farmhouse, to the kitchen to you at Kitchen Pizzeria.
Our range of fresh artisan pizzas are bursting full of flavour including firm favourites such as Margherita, Pepperoni Piccante, Meat Feast, Three Cheeses, Pollo (chicken) as well as Prosciutto, and Marinara for an anchovy taste of the sea. Vegetarians can choose either an Arrostito as well as Margherita, with our Vegetable Primavera for our valued vegan customers. For something a little different - a pizza with a British-Indian twist - you can try our ever-popular Chicken Tikka pizza.
As well as our pizzas, bruschetta, focaccia, calzone and panini we are pleased to serve you Burrata, Potato Salad, Chicken & Prosciutto Salad, and Green Salad all packed full of Italian flavours, colours and goodness.
You are also welcome to try a our freshly made pastries, coffee, soft drinks, fresh juices and a selection of bottled beers and wines.
Kitchen Pizzeria is proud that our cheeses are non-engineered and our coffee is from sustainable sources each contributing to being an eco-friendly, carbon, friendly business.
You Might Also Like
Restaurant / Italian Cuisine
Restaurant / Italian Cuisine
Restaurant / Italian Cuisine